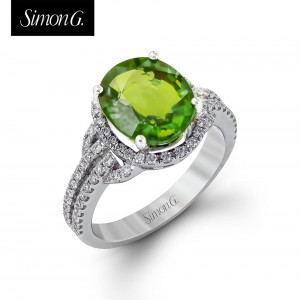 The vivid green of the peridot (pronounced pear-a-doe), with just a slight hint of gold, is the ideal gemstone color to go with that light summer wardrobe. No wonder – since the peridot is the gemstone of the summer month of August.
The peridot is a very old gemstone, and one which has become very popular again today. It is so ancient that it can be found in Egyptian jewellery from the early 2nd millennium B.C.. The stones used at that time came from a deposit on a small volcanic island in the Red Sea, some 45 miles off the Egyptian coast, which was not rediscovered until about 1900 and has since been exhausted. A few years ago, however, peridot deposits were located in the Kashmir region of Pakistan and the stones from these deposits have an incomparably beautiful color and transparency, making Peridot a fashion statement.

The ancient Romans were also fond of this gemstone and esteemed its radiant green shine, which does not change even in artificial light. For that reason they nicknamed it the 'emerald of the evening' but it is also known by two other names: 'chrysolite', from the Greek 'gold stone', and 'olivine', for the peridot is the gemstone form of the mineral olivine. The peridot is one of the few gemstones which come in one color only–a rich, green color with the slight tinge of gold is caused by very fine traces of iron. The intensity of the color depends on the amount of iron actually present and can vary over all shades of yellowish green and olive, and even to a brownish green. Peridot is not particularly hard – only 6.5 to 7 on the Mohs scale – but it is easy to look after and fairly robust. Peridot cat's eyes and star peridot are particularly rare and precious.
August's birthstone adds a wonderful variant to the color spectrum of green gemstones. And since the world of fashion is just in the process of rediscovering its love for the color green, the popularity of this rich green gemstone is also very much on the up. GO AUGUST!!!!!