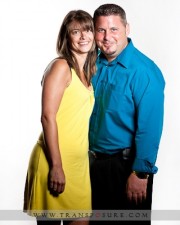 "We feel like stars," said bride-to-be Marah Winkler about working with the businesses who are giving her and her fiancé Jimmy Silvestri a free luxury wedding as part of a prize in The Roman Jewelers Wedding Contest. We tell them at every meeting, "we appreciate you, trust you and put our day in your hands, you are the professionals," she adds. The "Romantic Partners" as they are called, are not only professionals, they are donating everything to make the wedding possible, including a couture wedding gown, a five-night honeymoon in Hawaii, photography and videography, food and drink for 200 guests, a wedding cake, a limousine, and of course, wedding bands from Roman Jewelers.
In order to win the contest started by Roman Jewelers in Flemington & Bridgewater, the couple, both and from Forked River, worked with the Special Olympics of New Jersey on raising funds and increasing awareness for the charity. They successfully completed both goals by raising $20,571 for the charity, and promoting Special Olympics on Facebook, TV and Radio.       
Through implementing "Good Deed Plans," their completely creative and original initiatives to assist their chosen Charitable Partner, Marah & Jimmy, along with 8 other finalist couples raised a total of $67,328 in just under two months. "This is the best thing that has ever happened to us in our lives together, besides actually meeting, of course," Jimmy says with a grin. He added that they both feel honored to have been involved with Special Olympics NJ and that they look forward to working with them for many years to come. "This is exactly what we've hoped for," said Sophie Shor, co-owner of Roman Jewelers. "The idea behind the contest was to introduce young couples to the rewards of charity work and reward them for doing it. I have no doubt that all of the finalists will continue to work as a team to help charities." In the two years The Roman Jewelers Wedding has been held, the contest raised over $166,000 dollars and widespread awareness for non-profits across the state.
The couple admits that they would have had to wait quite some time and save a great deal of money to get the wedding of their dreams—a wedding of this caliber, particularly. They know it wasn't the "typical" engagement, but they appreciate the real value of what they've accomplished together and for now, at least,
they are just like every other couple two weeks away from their big day: she continues to gush about the dress as they both prepare for their friends and families to join them for one of the most special days in their lives.
Speaking about the Romantic Partners making Marah and Jimmy's dreams come true, Sophie Shor says, "These businesses care about our communities and about charities and I'm not going to be shy about saying that I hope that all the good comes back to them. They deserve every bit of it."  These businesses include: The Villa at Mountain Lakes and Frungillo Caterers, Hilton Waikoloa Village at Waikoloa Beach Resort, Donna Morello Wedding Gowns, Transposture Fine Art Photography, Conroy's Creations, Dieci Lifestyle Spa & Salon, NJ Limo Bus & Limousine, LeMedSpa, Occasions, Enjou Chocolat, Sphericality, Craig Scott Entertainment, Absolute Media Productions, Dress for Success, The Finishing Touch and Roman Jewelers. Learn more about them at http://weddings.romanjewelers.com/romantic-partners/