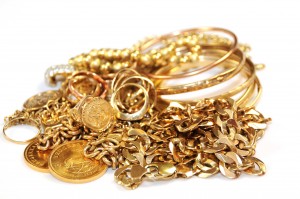 For three days only, Friday, March 23 – Sunday March 25, Roman Jewelers in Flemington & Bridgewater, NJ, will be hosting an event where customers can sell their gold and receive double dollars to be applied towards a new, fine jewelry or watch purchase or a one-of-a-kind custom designed piece.
"The ladies are pretty excited about this because the timing is perfect for spring fashion. The ideal jewelry accessory is what women want for the upcoming weddings, graduations, Mother's Day and special events and holidays. The men are excited, too, because they can use the gold credit towards a fine watch purchase," says Director of Sales Allyson Berlen.
Berlen adds that this is really a great opportunity to get something you've always wanted and be able to recycle at the same time. "I tell people all the time to wear your jewelry! If you aren't wearing it, maybe you should replace it with something you will love and enjoy more."
During the event, consultations are being held for the customers that want to use their credit for the design of a custom designed piece. Appointments are encouraged to do this, but Roman Jewelers recognizes that there is still a large demand for one-of-a-kind, especially this time of the year with Mother's Day around the corner.
For more information about the Double Gold Event, contact Roman Jewelers in Flemington at (908) 782-8240 or the store at the Bridgewater Commons Mall at (908) 575-1242.
Roman Jewelers is a family owned and operated store with locations in Flemington and the Bridgewater Commons Shopping Mall in Bridgewater. Roman Jewelers specializes in custom jewelry design, fine jewelry including diamond and bridal jewelry, designer jewelry and jewelry repairs.   The Roman Jewelers Flemington location also offers a wide selection of fine Swiss watches.  Additional information about the company is available at www.romanjewelers.com.