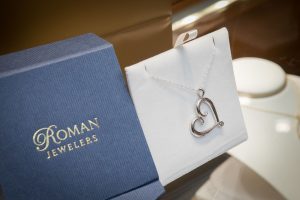 There is always a charity that is close to someone's heart. At Roman Jewelers, we felt creating a custom-designed pendant was the perfect way to reach out to local charities and the community with a broader message: WEAR, SHARE, CARE—Wear the pendant, Share the story of your favorite charity, Care and support our local community. And, in the last year, we have done just that by together raising nearly $5,000.
The idea came from trying to do the most good in our community. Roman Jewelers wanted to create a custom designed piece of jewelry that would be special. Not just in its design, but in its message. When a person purchases the exclusive "Share Your Heart" pendant, Roman Jewelers donates the profit to the person's favorite charity in their name and hopefully there is a story to share every time it is worn, spreading the word and striking up a meaningful conversation.
Launched in October of 2018, the pendant was created by Roman Jewelers', Co-owner and General manager, Lucy Zimmerman. Ms. Zimmerman selected a heart shape for this exclusive creation because it is truly a symbol that is universally adored and can be given as a gift to celebrate an anniversary, birthday, graduation or other special occasions. As a 4th Generation jewelry designer, Lucy was determined to craft a distinct piece, which was kind of hard to do with a heart, but after many designs, she was able to design one that was very unique.
When someone purchases this sterling silver pendant, which retails for $100.00, Roman Jewelers will donate the profits of $50.00 of the sale to the purchaser's favorite charity in their name or in honor of anyone that they choose."The check is literally in the mail," says Ms. Zimmerman "and the charities are surprised and happy, when they open it," she adds.
The Share Your Heart pendant is sold to individuals in the Bridgewater store and through the Roman Jewelers website but the idea was to also provide a unique and thoughtful way to help local nonprofits with their own fundraising. Roman Jewelers created a promotional packet for the charities that they could use on their own, complete with a flyer, eblast, photography, and social media assets. Many charities have also sold the pendant at their events. From the Raritan Valley Community College foundation fundraisers to the Shaun O'Hara Golf Outing to benefit Cystic Fibrosis the word is  spreading and locals are showing their support for the charity that is close to their heart. 
"Our BW NICE members know that the Share Your Heart pendant is truly a gift that keeps on giving. Besides making a wonderful present for special occasions, 50% of each purchase goes back to our organization so we can further build awareness to help finally put an end to domestic violence. We are so grateful to Roman Jewelers for their outstanding support of our mission, " said Laura M. Cummins, president of the BW NICE Somerset County Chapter and owner of Nine Dotz Consulting.
"It's only been a year and we are very pleased with the amount of money that we all raised together. It is our hope that we can raise even more in the next year. Word is getting out," says Ms. Zimmerman. She adds that when she wears her pendant around Bridgewater, people have approached her unknowingly and have asked her what charity she supports, "I tell them as many as possible."
Since the company's beginnings 30 years ago, Roman Jewelers has been dedicated to supporting charities and working to improve our communities. It is in built the fabric of our company, and, it comes from within the people who work here, as well as our owners—Sophie and Roman Shor and their daughter, Lucy Zimmerman. The family has been recognized locally by many, many charities and business organizations including the YMCA, The Hunterdon Chamber of Commerce, The Hunterdon Medical Center, Raritan Valley Community College and The Red Shoe just to name very few.  This year, to celebrate the 30th Anniversary, Roman Jewelers is providing a $5,000 donation to The Somerset Patriots Children's Educational And Sportsmanship Foundation. For more information about the Share your Heart Pendant, or to purchase one, see the Roman Jewelers Website https://www.romanjewelers.com/page/share-your-heart-pendant.html