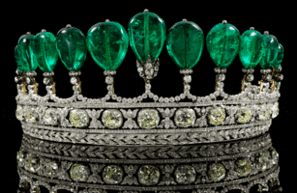 Have discretionary $5 to $10 million dollars? If you do, get an airplane ticket to Geneva, Switzerland and attend the Sotheby's auction on May 17. The emerald and diamond tiara will be offered at an auction there.
The tiara was created with 11 pear-shaped rare Colombian emeralds that collectively weigh over 500 carats. The emeralds are thought to have been included in the personal collection of Empress Eugenie, wife of Napoleon III, before the tiara was created for Princess Katharina Henckel von Donnersmarck circa 1900.
I don't think any of you will be ready to jump on that offering. So for now, enjoy the picture. It is truly a magnificent piece of jewelry.