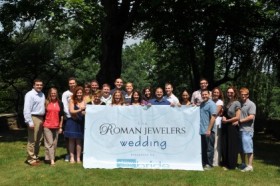 The winner of the Roman Jewelers Wedding contest, presented by New Jersey Bride, will be announced on October 7 at 6:30 pm at Roman Jeweler's Renaissance Plaza in Flemington. The contest, sponsored by Roman Jewelers of Flemington and Bridgewater, will award a free luxury wedding to the couple who most successfully completed their "good deed plan," the ideas and goals they set in August to conduct the most successful fundraiser and awareness campaign for a local charity.
Since August 2nd, the finalist couples have been raising money and awareness for local charities—American's Grow-a-Row, Anderson House, The ARC of Hunterdon, Hunterdon Art Museum, Make-a-Wish Foundation® of NJ, Raritan Valley Habitat for Humanity, SAFE in Hunterdon, Special Olympics NJ and Woodlands Wildlife Refuge.
Whether selling decorated wooden bears, hosting a wiffle ball tournament, dinners, luncheons, comedy nights or inviting musicians to participate in a benefit concert, the couples, according to Sophie Shor, co-owner of Roman Jewelers, "are amazing, hard-working and dedicated philanthropists. One of the couples will win, but they are all heroes to their charity and to our community."
The winner of the contest will receive a free luxury wedding including a reception for 200 guests at The Villa at Mountain Lakes, diamond wedding bands from Roman Jewelers, a wedding gown from Donna Morello Wedding Gowns, entertainment by Craig Scott, floral arrangements by Conroy's Creations, photography by Transposure Fine Art Photography, favors by Enjou Chocolat, invitations by Occasions and a honeymoon at the Hilton Waikoloa Village.  Absolute Media Productions is donating the Videography, NJ Bus and Limo the transportation;  and Le MedSpa, Sphericality, Dieci Salon and Spa, and Dress for Success will donate the finishing touches that will make the bride and groom look their best at the February 12, 2011 wedding. Opulent Events, of Lebanon is working on the preparations for the Finale Event where the winners will be announced.
"Our 'Romantic Partners' cannot be overlooked," says Sophie Shor. "Without them, the wedding would not be possible. It is good will and generosity at its best and I ask the community to take a good look at these companies. They are examples of businesses with big hearts and dedication to our community," she adds.
 The achievements of the finalist couples will be judged by WPST Radio Personality Toni Ryan; Molly Tully, editor of New Jersey Bride; Candice Benson, Master Bridal Consultant™, The Finishing Touch / NJ President, Wish Upon a Wedding, and Roman Shor, President of Roman Jewelers.