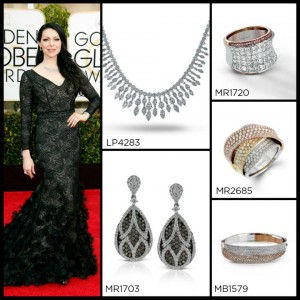 The Jewelry Industry and stylists were tweeting all the jewels and styles from last night's Golden Globes, for those of us that needed more closeups. If you couldn't follow it all, read on to find out about the highlights-diamond fringe earrings and necklaces, diamond statement necklaces, platinum and Simon G.!!!
New Zealand pop star Lorde may have blinded you last night with a massive 100 cts. t.w. platinum and diamond Cleopatra-style bib necklace, as well as seven platinum and colorless diamond rings, but for us in Central Jersey it was Orange Is the New Black's Laura Prepon who we were most excited about. Why? Because she wore Simon G! Our favorite Designer.  All of Prepon's looks are available right now at Roman Jewelers. That was exciting!
Besides that, there was plenty more to see and admire.  St. Vincent's Naomi Watts earned high compliments for the Bulgari diamond-studded snake necklace that seductively slithered into position around her neck, and though  may have been criticized for her gown, but she scored points for her bib-style diamond necklace from Simon G. Good Wife nominee Julianna Marguiles, meanwhile, also wore a bib-style diamond necklace, though hers—like Watts'—was from Bulgari.
Diamond fringe earrings, however, were the "It" accessory of the night on celebs like Amal Alamuddin Clooney, Jennifer Lopez, nominee Amy Adams, Kate Beckinsale, nominee Jessica Chastain, and Sienna Miller for proof.
Of course, exceptions from the all-white looks were present—and appreciated. Best Actress in a comedy nominee Julia Louis-Dreyfus and Michelle Monaghan, nominated for her work in True Detective both wore lots of color and comedienne Leslie Mann wore stunning emerald slice earrings with boulder opal and diamonds. Nominee Emily Blunt's turquoise and diamond chandelier earrings garnered lots of praise, as did Lupita Nyong'o's amethyst, peridot, and diamond drops.
Yellow gold had a quiet showing this year–Jennifer Aniston wore black onyx and yellow gold chandelier earrings and Kelly Osbourne had a warm yellow gold jewelry look, too! Next year's Golden Globes will see more yellow–we're certain.