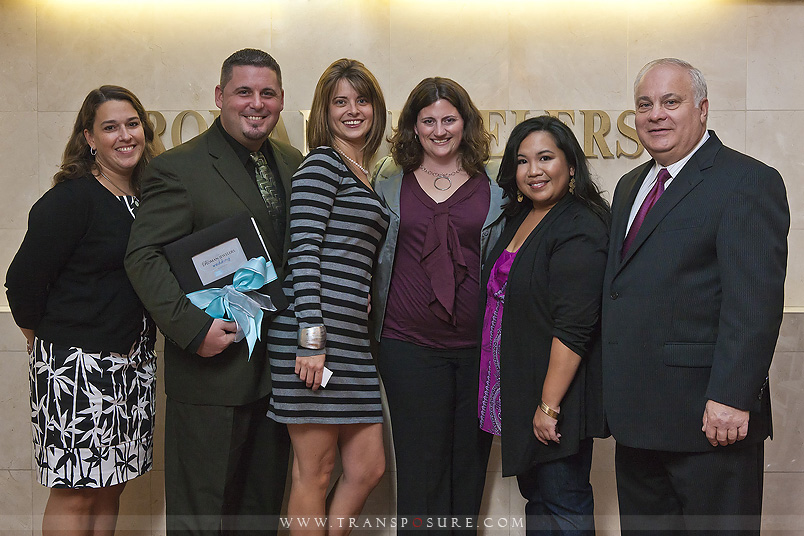 After 8 weeks of raising money and awareness for 10 New Jersey non-profit organizations finalists in the second Roman Jewelers Wedding contest gathered at Roman Jeweler's Renaissance Plaza to find out who won the wedding of their dreams.  Congressman Leonard Lance, representatives from all 10 non-profits, community members, friends and family were there to show support for the contestants. The evening culminated with the announcement that winners of the free luxury wedding were Marah Winkler and Jimmy Silvestri of Forked River.
Through implementing "Good Deed Plans," their completely creative and original initiatives to assist their chosen Charitable Partner, finalist couples raised a total of $67,328 in just under two months.
The finalists implemented Good Deeds Ranging from "Party in pArc," a fun filled event to support The Arc of Hunterdon that included food, contests, prizes, music and other performances to "Wild About Woodlands," an art auction and community project where artists painted wooden bears and skunks to be sold and displayed in support of Woodlands Wildlife Refuge. A variety of other events demonstrated the benefits of creativity when fundraising and building awareness for charity.
Four judges were responsible for reviewing the results of each plan and listening to each couple speak about their accomplishments. The panel included Roman Shor, President and Owner of Roman Jewelers; Molly Tully, Editor of New Jersey Bride Magazine; Candice Benson, President of the Association of Bridal Consultants NJ and NJ Chapter of Wish Upon a Wedding and  Radio Personality Toni Ryan, host of  94.5 WPST's More Variety Workday.
After hearing their presentations judges deliberated for close to 20 minutes before reaching their final decision. Congressman Lance, commented how difficult the decision would be and told the audience "he did not envy the judges task."
The congressman attended the event to congratulate and thank all of the contestants, as well as Roman Jewelers owners' Sophie and Roman Shor. He commended the accomplishments of all the contestants and added that," Hunterdon County and the State of New Jersey are thankful."
Following the deliberation, Marah Winkler and Jimmy Silvestri of Forked River were announced winners. The couple donated $20,571 dollars to help Special Olympics New Jersey in their mission to provide more than 21,000 children and adults with intellectual disabilities free sports training and competitive opportunities. 
Their comprehensive awareness and fundraising plan included a "Bowl-a-Thon," "Bounce-U Children's Event," "Mega 50/50 Raffle," a 10% give back month at Tiffany's Restaurant in Toms River, outreach to area schools and various other initiatives. 
The couple also generated awareness for Special Olympics New Jersey by sending home flyers in schools, creating a Facebook page, reaching 55,000 viewers with PSAs on TV 21 of Ocean County, distributing information in local businesses and running radio PSAs on 105.7 The Hawk for a month.            
Mark Edenzon, President and CEO of SONJ says "The contest is unique in the fact that it introduces philanthropy to young couples and as demonstrated by all the contestants it has proved to be incredibly profitable for the charities involved. We are thrilled that our couple was able to successfully achieve what they set out to achieve and those funds will be used to support Special Olympics athletes throughout the state."
The couple was "speechless," said Ms. Winkler. "This was one of the greatest experiences of our lives, the contest helped us grow even closer, we've never worked together as a team like we have the last two months. We had our ups and downs but at the end of the day we raised money and awareness for an amazing charity and it was well worth it."
The lucky winners will be married on February 12, 2011 at The Villa at Mountain Lakes. Their all expense paid luxury wedding includes a couture wedding gown, five night honeymoon on Hawaii's big island, full photography and videography services, food and drink for 200 guests, wedding cake, limousine services and everything else to make a wedding possible. Each piece is provided by Roman Jewelers Wedding Romantic Partners, premier wedding vendors who feel it is important to give back.
Throughout the two years The Roman Jewelers Wedding has been put on the contest has raised over $166,000 dollars and widespread awareness for non-profits across the state. "We couldn't be happier than to provide this contest so that people can make a difference in community and change the lives of people in need around New Jersey," says Sophie Shor, Vice President of Roman Jewelers.
To see all the details of the Marah and Jimmy's dream wedding and learn more about the generous NJ wedding vendors who donate their goods and services to make it possible visit www.romanjewelers.com