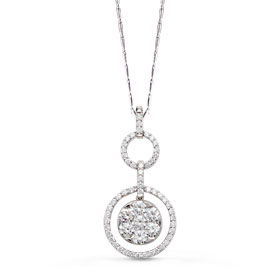 The red carpet is the best part of the Oscars for most of us. In fact, the Oscar fashion trends set the stage for what we will be seeing in magazines and the stores for the next year!
As jewelers, we pay attention! We need to know what our fashion-forward customers are going to come looking for and we do not want to disappoint them. So here are a few of our notes from the 82nd Oscars.
The jewelry worn at the Oscars—with the exception of a few ladies who opted for chandelier earrings—was overall, classic diamond jewelry. From simple studs to drops to cluster versions, many stars wore diamond earrings along with a matching diamond bracelet. Take our big winners, and my favorite, Sandra Bullock. She wore her own diamond earrings and matching bracelet (this is a big deal considering almost all of the others borrow from the top designers).  Director, Kathryn Bigelow, paired diamond stud earrings with a matching pear-cut and round pave diamond bracelet.
Maggie Gyllenhaal accented her floral dress with a vintage 1940s diamond and platinum bracelet featuring emerald and sapphire, plus 19th century diamond and ivory "Calla Lily" earrings. Cherlize Theron also went vintage with a marquise diamond and platinum bracelet and diamond and platinum cluster earrings.
The yellow diamond trend also continued with Best Supporting Actress Mo'Nique, who selected a princess-cut yellow diamond tennis bracelet, radiant-cut light yellow diamond line bracelet and radiant-cut fancy yellow and colorless diamond earrings to wear with her sapphire blue gown. Kate Winslet wore a yellow diamond necklace created exclusively for her by Tiffany, but we have a similar one right here at Roman Jewelers! Yellow diamonds are classy, rare, and a true statement about a personality. We love them here.
The best part is that these looks are really easy for consumers to emulate and accessorize with their own everyday and night-out looks because diamond jewelry goes with everything! Pull out some of your own diamond treasures, come in to Roman Jewelers and get them polished or refashioned. While you're here you can see the new latest diamond looks, too! Most of all…enjoy your diamond jewelry. It is fashionable and smart.