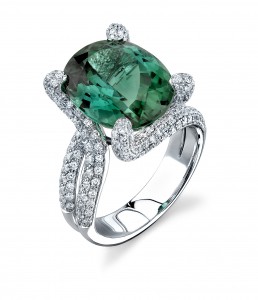 Towards the end of 2009, the red carpet was shining with jewelry of all kinds—the bigger the better. As we enter into 2010, it will be interesting to see if these trends will stick a bit and/or if some new jewelry trends will emerge. Here is the sparkling status as we know it:
Bangles
When it comes to bangles, "the more the merrier," says Helena Krodel of the Jewelry Information Center (JIC), www.jic.org citing rose-cut diamond versions, rose gold and hand-hammered gold incarnations as top styles.
Cocktail Rings
Large cocktail rings remain red-carpet faves, and oversized ones can stand in for bracelets, says Duvall O' Steen of the World Gold Council. Of-the-moment styles include floral motifs and avant-garde shapes, says the Diamond Information Center's (DIC) Jamie Cadwell.
Cuffs
As with bangles, consumers shouldn't be afraid to stack big, bold cuffs, says the JIC's Krodel, adding that cuffs are one of the easiest red-carpet looks to emulate, with plenty of affordable versions on the market.
Hoops
"In terms of every day, hoop earrings are absolutely the number one earring trend," says the JIC's Krodel.
Drop Earrings
"It's such a classic look," the DIC's Cadwell says of the diamond drop earrings that have popped up on the red carpet. To get similar diamond looks for less, Cadwell advises consumers to seek out pave and rose-cut versions.
That is what the experts say, what do you think will happen 2010?