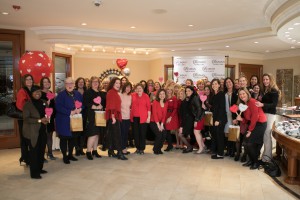 February is a month that is all about love. From National Heart Month to Valentine's Day, there are so many opportunities to show others how much we care for them. At Roman Jewelers, we felt it was a wonderful time of year to launch our Share Your Heart campaign. On Thursday, February 1, 2018, we invited over 40 local nonprofits to be a part of this special launch that was held at our Bridgewater location. Organizations from Hunterdon and Somerset Counties were introduced to the one-of-a-kind heart pendant that we specially designed to help support their fundraising efforts throughout the year.
During this launch party, executive directors, board members and interns from nonprofits throughout Hunterdon and Somerset Counties had a wonderful opportunity to network with one another, meet our staff, and discover first-hand why we established the Share Your Heart campaign.
Sophie Shor, our Vice President, shared with attendees that she created the Share Your Heart campaign because she wanted to develop a unique and thoughtful way to help local nonprofits with their fundraising. "Creating beautiful jewelry and supporting local nonprofits are two things that we would like to think that we do very well at Roman Jewelers," said Sophie.
The Share Your Heart pendant was designed by Sophie's daughter and General Manager, Lucy Zimmerman. Lucy selected a heart shape for this exclusive creation because it is a symbol that is universally adored and can be given as a gift to celebrate an anniversary, birthday, graduation or other special occasions. As a 4th Generation jewelry designer, Lucy was determined to create a distinct piece, which is kind of hard to do with a heart, but after many designs, she finally constructed one that was perfect for this wonderful campaign.
When someone purchases this sterling silver pendant, which retails for $100.00, Roman Jewelers will donate $50.00 of the sale to the purchaser's favorite charity in their name or in honor of anyone that they choose. The necklace is available for purchase at our Flemington or Bridgewater locations, as well as on our website (romanjewelers.com) and Facebook page. Besides making a wonderful present for someone special, the Share Your Heart pendant is a gift that keeps on giving.
At the end of this festive event, our staff presented every attendee with their very own Share Your Heart pendant to thank them for all the good that they do within their organizations and our communities.
Since our company's beginnings nearly 30 years ago, Roman Jewelers has been dedicated to supporting charities and working to improve our communities. It is in built the fabric of our company, and, it comes from within the people who work here, as well as our owners.