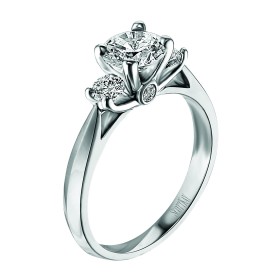 By Guest Blogger:  Sandy Heimberg
What a joy it is to choose an engagement ring! What a happy event—one of life's defining moments! Oh, really, you say, well it is also scary, stressful and very expensive. Well, my answer is that it doesn't have to be. Not if you do it the way that is best for you and your intended. Advice on buying an engagment ring…
First of all, know your budget. The right jeweler will work within it and not push you to over-extend yourself. He or she will also discuss the appropriate payment plan for your lifestyle. Secondly, decide if you think it is wise to choose both the setting and the center diamond yourself in order to keep everything a surprise. Only you know if your fiancee-to-be has something special in mind. If she does, it may be preferable to allow her to select a couple of settings from which you can ultimately choose.You might want her to also designate the shape of the center diamond she prefers and her choice of metals. Then you can return to the store at a later date and purchase the ring on your own, and she need not know the financial specifics. The right jeweler will also explain what is covered as far as repair, stone loss, resizing, refinishing the metal, etc.
Pick your jeweler wisely. In fact, "interview" jewelers so that you find the best fit for you. Your jeweler should act as your educator and guide throughout the process. Your questions should all be answered. You should by all means view diamonds under the microscope so that you can examine and understand their unique individual "fingerprints." Compare stones. Every diamond has its own personality. Your jeweler should make you feel that you are the most important client in the world because you are, no matter how much you are spending. You will de-stress when you realize you are working with a patient and knowledgeable professional whose goal is to make you comfortable throughout the process and delighted with your final purchase.
Feel a little better now? Good, go out and make that engagement ring purchase with confidence! Congratulations!