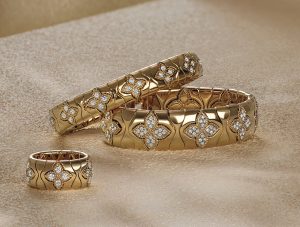 Roman Jewelers, like all of us had an unusual–at best–holiday shopping season. Despite the challenges, we still enjoy the romance of the season—meeting our #RomanJewelersRomantic couples, who were celebrating with wedding news and proposals. We loved that we were able to keep everyone safe with mostly "appointment" shopping and that jewelry put smiles on everyone's faces. There were also some "top jewelry trends" of the Season that we wanted to share with our friends. 

CENTRAL NJ's TOP JEWELRY TRENDS
1. Yellow Gold. The warmth of yellow gold is something the industry has been talking for a few years and it has finally really hit Central New Jersey. Last year there was a decent increase in shoppers looking for yellow, but this past Holiday it was truly notable. Many of our customers are thrilled to see it back. Roberto Coin, which is back at Roman Jewelers,  was a particular favorite. Made in Italy, Roberto Coin is the true definition of Luxe in any metal, but Italian designers, somehow (Including Marco Bicego) certainly do yellow more beautifully.
2.  Hoop earrings. Another familiar trend, Ladies in Central NJ are celebrating the return of the classic hoop, large hoop, hinged hoop, diamond hoop, and more! Hoops are hot and ladies in Central NJ couldn't be happier.
3.  Diamond Jewelry. A sparkle for the holiday is always appropriate and diamond jewelry is a gift cherished for generations. Shoppers loved the latest from Gabriel &Co, who provides a stunning, fashionable look at all price points. Classic stud earrings and tennis bracelets were big gifts, as well.
In addition, our owner, Lucy Zimmerman noted that this Holiday Season, shoppers were coming in looking to purchase gifts that that were casual and wearable for everyday. Our Lagos line was a real favorite because it is so versatile. And we saw our gold bags flying out of the store…filled with Lagos (and love).