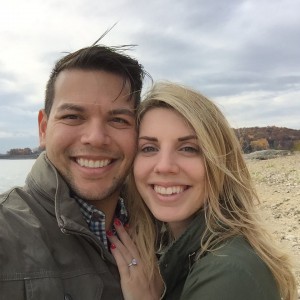 When Andy and Christine were set up on a blind date back in September of 2012 it was less than ideal timing for the pair. Christine had just moved to New Jersey where she was starting a new job. Andy, on the other hand, had just moved out-of-state to Connecticut for a three-year medical residency. Thankfully, they both still accepted the set-up and enjoyed their first date at a local Somerville pizzeria. The pair hit it off immediately and that first date ended up being the very last 'first' date for them both.
Despite living in different states Andy and Christine's relationship blossomed over the course of the next two and a half years. Upon completing his residency in Internal Medicine, Andy packed up his bags and moved back to New Jersey – finally putting an end to the 300-mile round-trip commute that separated the two!
On November 1st, 2015 Andy convinced Christine to go fishing with him at the Round Valley Reservoir, the same lake where he asked her father for his blessing just a few months prior. After a few hours on the water, Andy worked up the nerve and grabbed Christine's hand, got on one knee and asked for her hand in marriage. With tears, elation, and surprise, Christine said Yes!
Andy proposed to Christine with a round cut diamond set in a platinum setting by Tacori. Christine had never hinted at what ring she wanted making the hunt for the perfect engagement ring a bit more difficult for Andy. However, once he spotted the ring at Roman Jewelers he knew deep down it was the one. He knew his soon-to-be bride would love the vintage, romantic look of the setting and the way the diamond sparkled in the light.
The couple will be tying the knot on at Lake Valhalla Club in Montville, NJ on October 22, 2016.
Congrats, Andy and Christine, on your #GreatEngagement!
Check out more of the couples story on their awesome wedding website here: