[vc_row][vc_column width="1/4″][vc_column_text]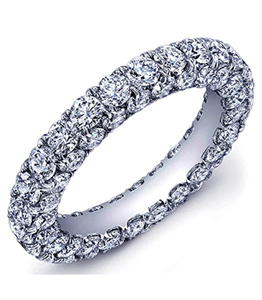 [/vc_column_text][/vc_column][vc_column width="3/4″][vc_column_text]Just what is an "anniversary band"? Is it different from a wedding band?
In many ways, a wedding band and an anniversary band are similar types of jewelry. Both are given as a symbol of love and commitment on some major occasion. Additionally, anniversary bands and wedding bands generally look pretty similar, and can be worn in similar ways. Still, there are some major noteworthy differences between wedding bands and anniversary bands.
A wedding band is typically a plain precious metal band, without any stones or diamonds embedded into it. An anniversary band is a little more elaborate; these typically have some type or types of jewels in the band.
An anniversary wedding band is a perfect gift for any anniversary. Whether it is your first, tenth, or fiftieth, an anniversary ring is always appropriate.
The two types of bands also differ in the way they are worn. While wedding bands may solely be worn on the left ring finger, anniversary bands offer a little more variety in use. They may be worn on the left hand, alongside one's wedding band and engagement ring. Or they may be worn solely with an engagement ring as a replacement for a wedding band. Additionally, anniversary bands can be worn on their own as a right-hand ring. Because anniversary bands are often wider-band rings, they look spectacular when worn by themselves.
Finally, wedding bands and anniversary bands differ in the occasion on which they are given. Wedding bands are, of course, given on one's wedding day. As the name implies, anniversary bands are often given as gifts on an anniversary. However, they are by no means an "anniversary-only" piece; anniversary rings also make great birthday or holiday gifts.
There are so many styles to choose from when selecting an anniversary band. Each ring has a unique precious metal band, stone type, stone cut, stone setting, and overall design. Just like no two couples are alike, no two anniversary bands are exactly the same.
For more information on anniversary bands, stop by Roman Jewelers today[/vc_column_text][/vc_column][/vc_row][vc_row][vc_column][vc_column_text]
[/vc_column_text][/vc_column][/vc_row]