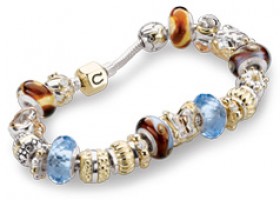 So take a bracelet or a necklace, and create a unique, just for you and about you piece of jewelry by adding and mixing-and-matching slide-on jewelry beads and charms. The beads are made of silver, 14K or 18K gold, crystal, gemstones, enamel, or Murano glass. It is a true kaleidoscope of you-have-a-memory, we have a bead.
Just came back from a trip to Paris? Remember it with the Eiffel Tower bead. Are you in love? There is an enameled red heart-bead. 
The bracelet or necklace you create has an emotional connection to your life and your dreams. These pieces of jewelry are all about you, they have an emotional connection to the important moments in your life.  
The charm bracelets have a long history; they've been around for 400 years. The new trend gives you a chance to express your personal style and tell your personal story.
So what's your personal story? Take a look at the Chamilia beads and charms that we have to offer at Roman Jewelers in Flemington and Bridgewater Commons Mall, NJ. With over 600 beads to choose from, it's easy to find the ones that will perfectly match your life story.