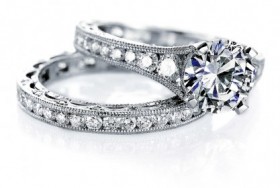 Christmas and New Years are the most popular times to get engaged and many 'guys' came into Roman Jewelers to do their shopping this year. So far, we don't have any requests for returns so the proposals must have gone well. Furthermore, the rings must have been well received by the ladies; which is fabulous news. Maybe all of those hints paid off! But really, his hard work, research, and decision to team up with a Roman Jewelers' sales consultant ensure a good choice and a happy fiancé. So, here's the report on what was hot in Central Jersey!
The flurry of engagement ring purchases in our stores seemed in line with the fashion trends reported by the National trade magazines and in the overall celebrity news—a return to more traditional, albeit quite large, colorless or near colorless diamonds.
Here in Central New Jersey, we found that the average size center diamond purchased this season was a bit larger than a 1 ct. Most of the diamonds sold were round, but radient cuts appealed to many, and came in as the second place choice.  Cushion cuts were still popular as were pave and halo settings. White gold was by far the metal of choice.
Many of our customers purchased Tacori, Scott Kay, and Simon G. settings because they loved the designer look and admire the fine detail and craftsmanship of their sought after designs.  Other
couples went for a custom designed look. With our custom designers on staff and a team of full time jewelers in both our Flemington and Bridgewater locations custom design is often the first and only choice for couples that want to something truly unique.
Here's to 2011, many happy couples and lots of sparkle.