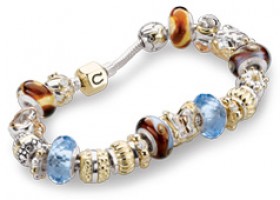 Jewelry says so much about a woman's personality. Charm bracelets, in particular, speak directly to a woman's interests, likes and really tell the story of who she is. Charm bracelets have been around forever and the wearing of charms may have begun as a form of amulet to ward off evil spirits or bad luck. During the pre-historic period, jewelry charms would be made from shells, animal-bones and clay, And there is evidence from Africa that shells where used for adornments around 75,000 years ago. In Germany intricately carved mammoth tusk charms have been found from around 30,000 years ago. In ancient Egypt charms were used for identification and as symbols of faith and luck. Charms also served to identify an individual to the gods in the afterlife. During the Roman Empire, Jewish scholars would write tiny passages of Jewish law and put them in amulets round their necks to keep the law close to their heart at all times. Queen Victoria even wore charm bracelets that started a fashion among the European noble classes.
Today, it is pure fashion…and fun. Chamilia, a company founded in 2002, has designed more than 600+ charms, or "beads" and they belive that women want beautiful, high quality beads with which to design and personalize jewelry pieces that capture their lives and style. The Chamilia line reflects a fresh, contemporary twist on the classic American charm bracelet and women of all ages love it.
Chamilia is fast becoming the "it" brand in the rapidly growing customized jewelry category. The company has a successful Disney® partnership with an exclusive collection of authentic Disney beads not available anywhere else as well as a line of handcrafted beads of 14k gold, sterling silver, Swarovski® Crystals, Italian Murano glass and colored stones that pair with beautifully designed companion bracelets, bangles and necklaces. The result is a fresh, contemporary twist on the richly remembered charm bracelet.
Roman Jewelers in Flemington & Bridgewater will be having a Girls' Night out with Chamilia on November 10th (Flemington) and 11th (Bridgewater) from 5 – 8 pm. Representatives from Chamilia will be there, too, to share all the lastest in design and gift ideas. Call Roman Jewelers for more information, or just come! The first 100 customers will receive a free bracelet with the purchase of three charms.