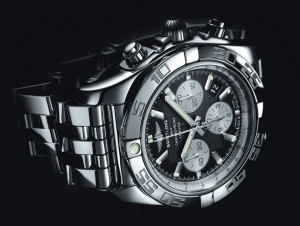 Roman Jewelers' Watch store sells chorongraphs and chronometers. Somehow, our customers know that…even if they don't know exactly what either word means and how they are different. They also know they don't have to worry, because not only will our watch experts will fill them in, but they will be able to show them the largest collection of chronographs, chronometers, or both in the area.A chronograph is simply a watch with a built-in stopwatch feature. It's likely to have one or more sub-dials or a small liquid crystal display (LCD) panel to keep track of the elapsed time. Chronographs have extra pushers in addition to the crown for the stopwatch start/stop and reset functions. Roman Jewelers sells many watches that are chronographs from all the brands in our store.
A chronometer is a very accurate (usually) mechanical watch with a high grade movement. The movement has been finely adjusted at the factory in several physical positions and temperature environments. A chronometer is almost always accredited and certified by either the watch manufacturer or by the prestigious Swiss Official Chronometer Testing Institute, COSC (Contrôle Officiel Suisse des Chronomètres). Breitling and Rolex are probably the world's most well known chronometer certified watch brands. Breitling, in fact, is the only major brand in the world to fit all the models in its range – both mechanical and quartz – with chronometer-certified movements. This is a sign of genuine exclusivity since only 5% of watches produced in Swizerland each year receive this label of excellence.
More questions? Call Gina or Larry at the Watch Store. They will be happy to help and enjoy sharing their extensive knowledge.