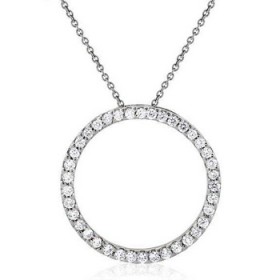 When it comes to fashion and jewelry, what do Gwyneth Paltrow, Madonna, Nicole Richie, Paris Hilton and Carrie Underwood have in common? All of these celebrities were seen wearing a simple necklace — a circle, and its meaning encompasses the meaning of life. The necklace is called a Circle of Life, a combination of simplicity, elegance, and meaning.
 Long before Oprah wore her circle of life necklace on her show, this simple geometric symbol has had significant meaning in all cultures throughout history. The message is as simple and beautiful as the design itself: Unity, Wholeness and Completeness.
 It is the perfect gift for any woman for any celebration: Mother's Day, Birth of a child, a birthday, a graduation, a marriage, or any milestone, be it happy, sad, significant, or humorous.
 Hopefully, we gave you an idea for your next jewelry gift. Circle of Life – you cannot go wrong with it! The circle brings it all together, all those life moments that when put together are the canvas of your life.
 At Roman Jewelers, we sell several variations on the circle of life necklace in different metals and in different designs, including the sought after, high quality couture creation by Italian designer, Roberto Coin. Roberto Coin creates the necklace with diamonds and in different sizes.