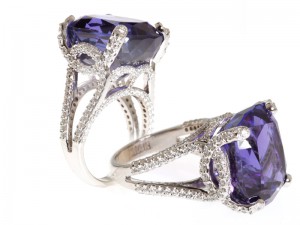 Yes, we are very proud of this tanzanite ring that was custom designed and made in our shop at Roman Jewelers last month.  One of our customers presented us with a challenge of creating a custom designed ring for her with a tanzanite she purchased while on a trip to Africa.
A little bit of history.  Tanzanite was first discovered by man in 1967 when an enormous grassfire swept the land below Kilimanjaro clear. In its rough natural state tanzanite is a brownish color. Before the fire broke out the stones looked unattractive and were hardly noticeable.  After the grassfire had burnt the land and heated the stones, they turned a bright, glittering violet-blue. Today, gem-quality tanzanites have become one of the world's most sought after stones.
As beautiful as tanzanite stones are, they also present a challenge to a jeweler working with it.  Natural tanzanite rates 6.5 on the Mohs scale of mineral hardness (the scale rates the scratch-resistant properties of various gemstones and minerals, with 1 being the softest and 10 being the hardest). That means that the jeweler has to be very careful while working with the gem, and especially when applying pressure to the stone while pressing the prongs that hold the stone in place.
The stunning ring that you are looking at is a result of a team work of talented jewelers and designers at Roman Jewelers. The ring was designed by Allyson Berlen, the model created by Roman Ustaev, and the ring finished by our master jewelers. The ring is made in 14K white gold, with 158 round diamonds weighing 1.37 cts., iIn total. The beautiful center stone is gem-quality cushion cut tanzanite weighing 29.98 cts, of fine deep saturated vivid purple-blue.
"Designing and making a ring of this caliber is a challenge and an honor," says Allyson Berlen. "It gives me a tremendous pleasure of making one-of-a-kind pieces of jewelry that I know will be passed from one generation to the next."