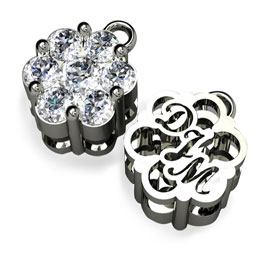 Whose initials are DJM?
They belong to one of the customer's of Roman Jewelers. Her husband asked us to make a pair of unique, one-of-a-kind custom cluster diamond earrings for her, but with a caveat; he wanted to incorporate her initials into the design. He also wanted a classic design along with a cluster of diamonds set so closely together that they would look like one large round diamond.
How does a custom  jewelry designer satisfy both requests? A classic cluster of diamonds comprising a circle of diamonds and three initials; all in one design? Is it even possible? For an experienced jeweler familiar with custom design challenges, it is!
And here is a solution we came up with. The front of the earring is a cluster of diamonds set with a technique we call "invisible setting".  With this technique the diamonds are set very, very close to each other, with prongs visible only on the circumference of the earring. Look at the image very closely; you really cannot see the prongs between the diamonds in the center of the earring.
Now, to the interesting part. Turn the earring upside-down and look at the back.  Do you see the three initials on the back of the earring? We cut the initials right into the metal on the back.
What do these initials stand for? They represent the first letters of the first, middle, and last name of the wife of the gentleman who ordered these earrings.
But to me, they also carry a hidden message, "I love you. I want you to have a truly unique piece of jewelry. They were made especially for you, and only with you in mind. Wear them in good health."