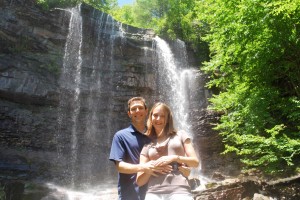 Roman Jewelers has been a part of so many engagements and moments and every single one takes on a new importance and meaning. We were honored to have worked with Daniel and Jennifer and have known their family for many years . We take tremendous pleasure in wishing them the best of love and luck and we thank them for the privilege of being their jeweler and sharing their romance. Here is their engagement story….
How we got engaged
July 1st was the sixth anniversary of Dan and Jenn's first date. The day began with Dan taking Jenn up to Lehigh's Iaccoca Hall Tower, which sits upon the top of South Mountain in Bethlehem. There he surprised Jenn with three long stem roses that he had hidden there the day before. He told her that the pink, red and white roses represented their past, present and future. (This was also a place Dan took Jenn on their first date.)
The celebration continued with a hike at Glen Onoko Falls park in Jim Thorpe, PA. After hiking for 20 minutes, Dan and Jenn had a romantic picnic on a boulder next to a small waterfall. Following a relaxing lunch they continued following the cascading falls up a steep and treacherous trail, which they had to work together to ascend, until arriving at the summit and most spectacular waterfall of the park.
Standing on a ledge at the foot of the falls, Dan presented a stuffed Gentoo penguin with a obsidian pebble in his mouth (a tradition that this type of penguin has for picking its life long mate – Click here to learn more). Dan then held Jenn's hands, expressed his vision of a life together in love and family, and then got down on one knee and presented the ring as he asked her to be his wife.
With tears of joy in both their eyes, Jenn accepted the proposal, Dan put the ring on her finger, they embraced with a big kiss and then Jenn hopped and danced around like a rabbit! At the base of the falls, Jenn and Dan celebrated with a bottle of Asti champagne.
After calling family and friends, Dan and Jenn went to dinner at the place they went on their first date. Then Dan took Jenn onto Lehigh's campus to the place where he had his first conversation with her; presenting her with a love letter that he had hidden on the campus. She gave him an anniversary card she had chosen the day before. With glowing smiles on their faces and love in their hearts, the celebration continued that night at a "speakeasy" with live Jazz music.
http://elliott-scansaroli.ourwedding.com/view/4354452998214679/6645265