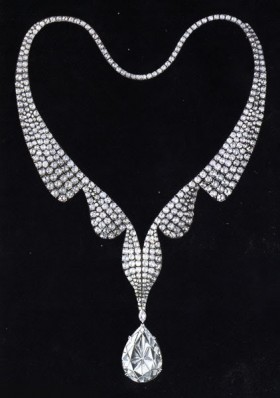 Yesterday, we lost Elizabeth Taylor, a legendary actress famed for her beauty, her charitable endeavors and her many love affairs. One of her most famous love affairs was the one she had with with jewelry. In 2002, she even wrote a book about it entitled, "My Love Affair with Jewelry" where she shared beautiful, lavish, pictures and stories about her jewelry collection. The book speaks to how passionate she was about jewelry—not just because she loved to own it and wear it—but because she was truly in love with its natural beauty, ancient history, and its emotional appeal.
Many of the pieces in her significant collection include historical pieces, like the Shah Jehan Diamond and the La Peregrina pearl. She also owned the "Taylor-Burton Diamond," as it became known for a period of time.
Elizabeth Taylor's Shah Jehan Diamond is an 88.7 caret yellow diamond found in India probably in 1450 and given to the woman who was Shah Jehan's favorite wife, Queen Mumtāz in 1621. The gem is in inscribed with the words "Love Is Everlasting" in Parsee. A diamond out of a storybook, this precious stone appeared and disappeared many times throughout the course of history until it was given to Liz Taylor by Richard Burton on her fortieth birthday. "I would have liked to buy the Taj Mahal for Elizabeth," joked Burton, "but it would have cost too much to transport it." That was how it became known as "The Taj Mahal Diamond."
Liz Taylor's, "La Peregrina"pearl is a large pear-shaped white pearl –the largest pearl to be discovered. It was found in 1513 off the Pearl Islands in the Gulf of Panama by a slave, and its history is spectacular. King Ferdinand V (1479-1516) first made the pearl a part of the Spanish Crown Jewels. It was then passed to his successor King Charles V (1516-1556). In 1556, Phillip II gave the pearl to Queen Mary I of England, and there are many portraits of her wearing the pearl. After Queen Mary's death in 1558 the pearl was returned to Spain, where it stayed for the next 250 years. In 1808, Napoleon Bonaparte captured Spain carried the renowned pearl with him. The celebrated pearl became known as the "La Peregrina – the Wanderer." It went back went to England and then was returned to Spain and remained there for another 250 years. It went to France and back to England with the Dukes of Abercorn until the year 1969, when it was purchased by Richard Burton for his Elizabeth Taylor.
Elizabeth wore the pearl often, including many of the movies she stared in with Richard Burton.  There are several movie stills showing her wearing it while in period costume, and she has told a very funny, famous story about the time her dog ate the historically important pearl with a royal history. Fortunately, the pearl was rescued from the dog undamaged.
In 1968, Richard Burton purchased for Elizabeth a flawless 69 carat diamond originally known as the Cartier diamond after Cartier Inc. paid the record price of $1,050,000 for the gem at auction. The next day Richard Burton bought the stone from Cartier for Elizabeth. It was then renamed the "Taylor-Burton diamond" and she first wore the pear shaped diamond publicly at a party for Princess Grace's 40th birthday in Monaco. In 1978, she sold the diamond to build a hospital in Botswana.
There is a funny story in Ms. Taylor's book about this diamond: Liz and Richard Burton were visiting Lucille Ball on the set of The Lucy Show, as Liz was going to guest-star in an episode. Of course, the Cartier diamond was the talk of the world, so Lucy asked if she could try it on. Liz Taylor has always been more than glad to let friends try on her jewelry, so she obliged. Well, Lucy could not get it off and she literally panicked. They tried in vain to get the ring off and finally succeeded, with much giggling from everyone.
Her stories and love for her jewelry is unlike any other in history, but her passion and true feelings about jewelry are really much more remarkable. She said, "I'm fortunate to have some very important pieces of jewelry. I don't believe I own any of the pieces. I believe that I am their custodian, here to enjoy them, to give them the best treatment in the world, to watch after their safety, and to love them." She also wrote, "As I look at some of my jewels I realize what a very lucky girl I am. Sometimes I wonder what will become of everything, because just like the Duchess of Windsor's collection, they will all be up for auction one day. They will be scattered to the four corners of the world, and I hope that whoever buys each piece loves it as much as I do and takes care of it and realizes that having jewelry is a temporary gift. In truth, we 'owners' are just the caretakers…Nobody ever owns anything this beautiful. We are only the guardians."
Putting it all in perspective, Elizabeth remarked: "You can't cry on a diamond's shoulder, and diamonds won't keep you warm at night. But they're sure fun when the sun shines."