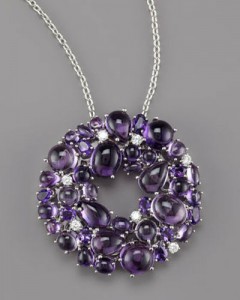 February can be bitterly cold, but getting that perfect piece of jewelry can warm the hearts of those you love. There are lots of exciting things going on this month like the Diamond Jubilee of Queen Elizabeth II on 2/6, Valentine's Day on 2/14 and a great deal of birthdays that deserve very special attention.  
So, if you want to treat the special woman in your life like a queen and need beautiful gift ideas, we suggest you take inspiration from February's birthstone: Amethyst — a regal gem with deep roots in nobility and power.
The ancient Greeks and Romans believed that amethyst had the power to protect it's owner from getting inebriated. Now is the time for you to become intoxicated with the beauty of this stone. It ranges in shades of pink rose and light lilac to the deepest hue of purple.
Throughout history, amethyst has adorned glamorous royals like Marie Louise of Austria, the second wife of Napoleon and modern royal icons like Princess Diana, Catherine, Duchess of Cambridge and Crown Princess Victoria of Sweden.
Today, you don't have to be of noble blood to enjoy the regal sophistication of amethyst. Thanks to the discovery of new deposits, including a large find in Brazil, the semi-precious stone is more accessible than ever.
Our favorite designers, like John Hardy, Roberto Coin, Scott Kay and Tacori have incorporated amethyst into their fashion jewelry collections, pairing it with white and yellow gold, silver, and even diamonds for a dramatically stunning effect.
So with only 29 days in February don't delay. Just because it's the shortest month, doesn't mean you can't give a gift that will last a lifetime.