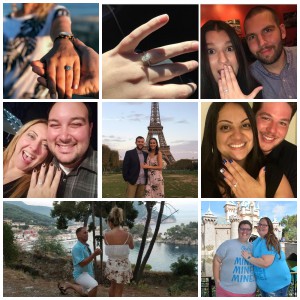 It has been so fun watching where an engagement ring takes our couples….literally, it's been around the world. We've had the honor for nearly 30 years, to be the first stop in a marriage proposal. And we've seen where it goes. We've celebrated many baby's births, anniversaries and birthdays with the couples that we've met and it has always been our privilege to be a part of their lives, really, we've felt like part of the family.
"It is one of the great honors of being a jeweler and we take our involvement in the proposal very seriously," said Co-owner of Roman Jewelers, Lucy Zimmerman. She adds, "but lately, seeing all these romantic proposals has added a new layer of excitement."
Roman Jewelers has been asking bridal customers to post their engagement photos and share them with us. Our hashtag has had a bit of a following and we are hoping it will grow. #RomanJewelersRomantic refers to our couples, their proposals, and we will continue to share more and more. Currently, plans are being made at the end of one year to celebrate them all and thank them for letting us be the first step on a wonderful and romantic adventure. Stay tuned.