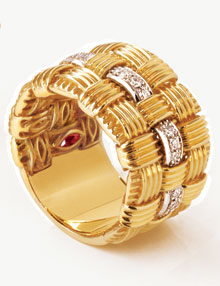 From Roberto Coin comes the long tradition of implanting a hidden ruby, "The King of Gems," into each piece that the company creates.
Why a ruby?
Tradition has it that the ruby has the power to bring piece, to promote a long and happy life, to banish evil and to reconcile disputes. That's a very powerful incentive to want the stone in direct contact with the skin.
Thus the ruby has become the mark of of each Roberto coin jewel – and a secret gift of good wishes to every woman who wears one of a Roberto Coin's exclusive creations.