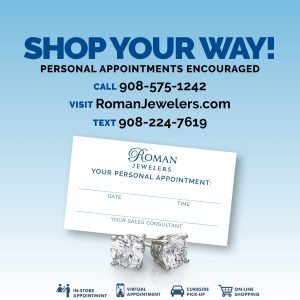 This Holiday Season, Roman Jewelers wants to provide options for customers to shop the way they feel most comfortable. This includes in-store by appointments, virtual appointments, curbside pick up, and online.  Of course, the well-being of our customers and associates remains our top priority and we're taking the necessary steps to ensure a safe shopping experience, no matter how you choose to shop and we are encouraging Personal Appointments.
By making a personal appointment, Roman Jewelers can provide a luxury, one-on-one, safe experience with little or no wait time in our store.
Use this link to set up: https://www.romanjewelers.com/make-an-appointment.html. There is a drop down menu to help you navigate, as well as a space to fill out any special requests! This will help our staff to service you better. Thank you! And Happy Holidays!