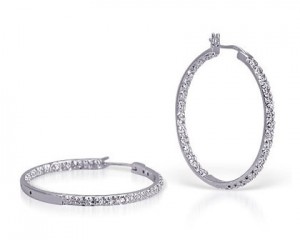 Speaking about classics – hoop earrings make a truly glamorous classic fashion statement. And celebrities are not shy about spotlighting their hoops with every step they make along the red carpet.
At the SAG (Screen Actors Guild) Awards last night in Los Angeles, actresses including Angelina Jolie, Christina Applegate and Jane Krakowski all wore hoops ranging from dramatic 22-Karat yellow gold hoops with ruby accents and heavy diamond drop-style hoops to more modest diamond studded styles.
No matter where the fashion world takes us, hoops are here to stay. Whether simple gold hoops or inside-out hoops with diamonds all the way around, hoop earrings are versatile enough to be worn with any almost any outfit for any occasion.
My personal favorites are white gold, sparkling diamond hoops from Roberto Coin.