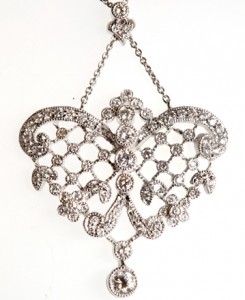 We haven't had too much of a "winter" here in New Jersey and Daylight saving time is right around the corner. What does this mean at Roman Jewelers? Time to get our jewelry wardrobes ready for Spring. The season calls for bright colors to transition us from the dreary and cold months.  And, Spring is also synonymous with renewal and re-growth. And, we do have a lovely piece in our Flemington store that will truly symbolize this.
This beautiful butterfly pendant from well-known designer Gregg Ruth immediately made us think warm thoughts.
The artist who created this piece of diamond jewelry made it delicate and light, just as the real butterflies are. The designer artfully  incorporated petals and flowers into the design and brought the feeling of new life and new beginnings.
The pendant is light and airy which the designer achieved by using thin wires and smaller size diamonds. It is made  in 18K white gold with sixty-seven .76 cts. of bezel-set diamonds carefully attached to a wire-lattice.
We think this is the perfect accessory to welcome Spring and shed the winter blues.
Available only at our Flemington location.