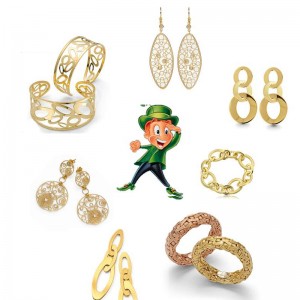 Aren't we all Irish on St. Patrick's Day? Even if you really are not….we all like to follow a tradition of wearing green clothes that day. And what fun it is! A green dress and a pair of green shoes. Or a green blouse and a green scarf. The possibilities of dressing in green are endless. But what about accessories? Remember, you need to wear something shiny and sparkly that day to attract a leprechaun, that little Irish man who, if caught, will tell you where he buried his big pot of gold.
If you really would like to see a leprechaun, I suggest you were a lot of yellow gold that day. There is no better combination than wearing green clothes accessorized with shiny gold, polished to perfection. Put on your favorite yellow gold hoop earrings, a bracelet, or a necklace from Roberto Coin.  Roberto Coin yellow gold jewelry will compliment your choices of green clothes just perfectly.
Of course you could wear jewelry with green colored stones like emeralds, jade, or green tourmalines. They will certainly look appropriate for that fun-filled day.
So get dressed, put your beautiful jewelry on , and enjoy the  St. Patrick's Day. www.romanjewelers.com