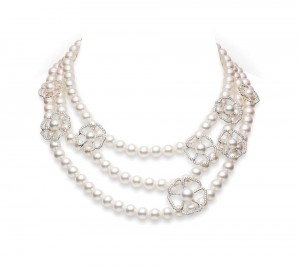 Passover starts tonight and Easter is almost here and we want you to look your best ! Here are a few ideas from our designer jewelry collection that will dress up your outfit. Whether your style is classic, sophisticated or playful, we hope these pieces will allow you to celebrate in style.
Sophisticated: Mikimoto Cherry Blossom Necklace
Shown above, is a lovely Cherry Blossom necklace from Mikimoto's newest collection exudes elegance and poise. The multi layered strands of Akoya cultured pearls are adorned with cherry blossom diamond flowers set in 18-karat white gold. We think the combination creates a stunning effect.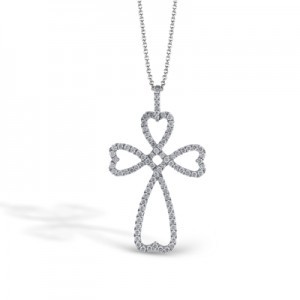 Classic: Simon G Cross Pendant
Simon G offers a wonderful collection of crosses – an iconic religious staple. We love the heart shaped edges of this dazzling cross pendant. The 18-karat piece is covered in .86ctw round white diamonds.
Pictured here: Simon G Cross Pendant
Playful: Chamilia Garden Party Bracelet
The blooming shapes and cheerful colors of Chamilia's Garden Party collection reflect the delights and sounds of Easter. Make this look all your own by picking the beads and color scheme that matches your holiday get up.