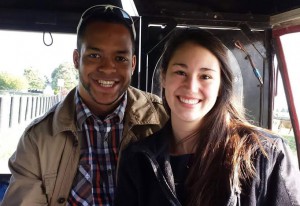 Two worlds collided in this #GreatEngagement story in Jorge's own words.
I am Dominican blooded but was born in San Juan, Puerto Rico. My family moved and lived there, from Santo Domingo, Dominican Republic, for 8 years. I have lived in Bridgewater, NJ ever since. Rachel was born in Delaware and is from Chadds Ford, PA. And this is our story….
Rachel and I met on Temple University's campus, where we both graduated from. A friend of mine knew a friend of Rachel's and we all met up one spring day of Freshman year on a grassy lawn on campus. To this day, I am a very shy person that has an even tougher time talking to pretty girls (not that it matters anymore since I am engaged to the love of my life). Well, that day on the lawn I could not bring myself to say 2 words to Rachel. We sat on the same blanket with 4 or 5 other people for an hour and I couldn't find a way to sit on the blanket without putting my dirty shoes on it, therefore I sat with my back to Rachel. Long story short, I never said a word to Rachel the 1st time we met but after that day I told my friend I wanted to see her again. He proceeded to make sure I was always around when Rachel was. When sophomore year came around I was hesitant about going to a party with my friend because I had a cast on my broken wrist and as soon as he told me Rachel would be there, I jumped up got dressed and bolted out the door. I didn't even know if Rachel would remember me or want to see me but I had to say something. All I could come up with was sharing my snacks and candy with her to stir up conversation. Then to keep her attention I would cover her phone whenever she tried texting anybody. In hindsight, this was probably more irritating than anything else. That party was on Saturday September 17th 2011, I didn't have her number and was scared to embarrass myself so it took me until Wednesday September 21st. We got lunch together that Saturday and spent hours talking, I mean 3-4 hours in front of Temple's student center just talking about anything we could. I walked Rachel home and the rest was history. On our first official date on October 21st 2011, I surprised Rachel to dinner in center city Philly. We had the best time together and I knew right then and there that this was going to be something special and something to remember.
Since then, we have been together for 4 years and 4 months. Aside from being close at college, we have lived as far as 5 states away when I worked in South Carolina for a month. Rachel currently lives and teaches in Philly and I am back living with my parents in NJ working in Easton, PA. We have never let our distance come in the way of our special bond and relationship.
Our engagement story is complicated from my end and much more simple from Rachel's. I had started planning the engagement in September of 2015, Rachel had no idea. We were going to spend a weekend in a cabin on one of the Finger Lakes and that would be the destination for our beautiful engagement. Well, then my parents wanted to spend Christmas with my brother and his wife in Jacksonville and Rachel and I would drive down to meet them for New Year's Eve. Once Rachel knew we were going to drive through North Carolina, she asked if we could make a pit stop at her childhood best friend's house in Greenville, NC. I couldn't deny her request, but I did have to change my plan for my proposal. Her and I had always wanted to go to the Smoky Mountains in Gatlinburg Tennessee/Asheville North Carolina, so it was decided. We would spend a few days in a cabin in the Smoky Mountains before heading to Rachel's best friend's house and my brother's house in Jacksonville.
After spending Christmas with Rachel's family for the first time, I gave her a Christmas card that had a packing list and itinerary for our next few days. Only the days in North Carolina and Jacksonville were highlighted, our trip to Gatlinburg was blacked out as a surprise to her. Rachel just had to pack accordingly and we would be on our way bright and early on December 26th.
The location was set and I needed to just pull through. The Smoky Mountains are known for their waterfalls, I was going to get down on one knee in front of one and propose then. After the 10 hour drive I figured that would be too obvious. We came into Gatlinburg at night and I told Rachel that her Christmas present was the trip and she could plan out our entire next day, December 27th. She was completely surprised and very excited to plan out our whole day. We spent the 27th hiking through the Smoky Mountains, making pit stops, taking pictures, and we even went to a comedy dinner show. After a long day, we came back to the cabin and sat out under the stars on the back porch. I set up my camera to take pictures of us on the back porch, Rachel got pretty annoyed I was even trying to do that since there was almost no lighting. Regardless, I set it up and pressed record. I have always been good with writing letters to Rachel and telling her how much I love her, but in person it is almost impossible for me. When I started getting choked up trying to tell Rachel how much I love her, I could sense she thought I was being strange. I quickly got up to get water and changed the topic. When I came back she had a blank look on her face and I knew I had to reach for the ring and get down on one knee. Reciting the words I just rehearsed in the kitchen, I proposed, "…I could not imagine going another day without doing this. Rachel Elizabeth Talley, will you marry me?" To my surprise she was overwhelmed with tears of joy and at 12:28AM on December 28th I knew I had truly surprised her with the intimate proposal she always dreamed of.
I came to Edie at Roman Jewelers with a sketch of my vision for the ring, and she did the rest. We found the setting, designed a bit into it, and picked the perfect diamond to accent it. Deciding on the setting took about 2 months and the diamond took another month to decide on. I knew I wanted something unique yet elegant for Rachel and this ring was just the one. Rachel has told me every day since getting it that it truly is perfect.
We are planning to get married in the summer of 2017. The location is still undecided, but it will definitely be a day to remember.