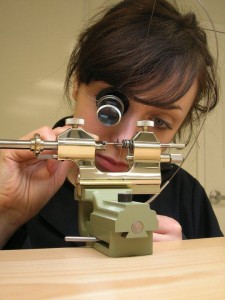 Roman Jeweler's Watchmaker Anna Vakhilt
In the highly specialized field where the "watchmaker" is often typecast as an old, bearded man with a magnifying lens, one might be surprised to meet Anna Vakhilt, the watchmaker recently hired at Roman Jewelers.
The stereotype makes Ms. Vakhilt laugh. She had heard "it was a male-dominated profession," but noted that a third of the students at the prestigious Nicolas Hayek Watchmaking School she attended were actually women."Many think that women are ideal for the profession, because they are more patient and gentle with the timepieces," she says.
She adds, however, that the study of watch making is absolutely still an "old school" trade that is handed down from one generation to the next and is a multi-generational profession where apprenticeships are commonplace. By custom, the term "watchmaker" is used because, though they do repairs and maintenance as part of what is called after-sales service, they fabricate some elements of timepieces to fix them. "It's also much easier to remember than 'Horologist'" Vakhilt adds with a grin.
And, although Ms. Vakhilt's father was not a watchmaker, some of her friends were. "I found out what they were doing, and I became very intrigued with it—the mechanics and complications of watches fascinated me."  The term "complications," refers to the devices that measure anything other than hours, minutes or seconds, like chronometer (stopwatch) functions, the date, or the phases of the moon. "I also knew that the job required someone to be focused, detail-oriented, fastidious and disciplined. It suited me," she says.
In 2005, Ms. Vakhilt registered for a two-year, 3,000-hour training program at what was then a new school established by the Watchmakers of Switzerland Training and Education Program, a group set up by the Swiss watch industry to standardize training worldwide. The group felt there was a need for the United States to offer watch making services and training equal to what was provided in Switzerland. Ms. Vakhilt said she felt like she was then part of a secret club where she could see the incredible mechanisms that are hidden from the owner, themselves. "Opening a watch is like opening up a masterpiece – every watch balance feels like a heartbeat." She was hooked and happy with her choice of career training.
The Nicolas Hayek Watchmaking School curriculum required additional factory training in Switzerland, where Ms. Vakhilt trained. Upon graduating, she received a WOSTEP (Watchmakers of Switzerland Training & Education Program) certificate, and worked for the SWATCH group for five years, most recently as a Diagnostic Supervisor where she performed "sort of microsurgery for watches. You want to watch your caffeine intake," she said, smiling.
Roman Jewelers is currently constructing a watch service workshop in their Flemington location that will be equipped with state-of-the-art tooling. This unique workshop will be enclosed in glass, which makes it possible for customers to view Ms. Vakhilt perform her craft. "We are so excited to be building this space as an added benefit to our customers and an improvement to our watch store," said Sophie Shor, Vice President of Roman Jewelers.
The services that can now be performed at Roman Jewelers Watch Store are:
Battery exchanges
Diagnosis of condition of mechanical or quartz movements
Partial repairs such as :
cleaning dial
placing of hands
adjusting rate on mechanical watches
checking the watch for magnetism and demagnetizing the watch if needed
Adding/ removing inks
Strap replacements
Fixing/adjusting clasp
Re-attaching crystal, bezel, caseback
"With the addition of Ms. Vakhilt to the staff, Roman Jewelers can provide much better service in house," says Mrs. Shor. She adds that some of the Swiss watch brands still require that watches be sent back for maintenance, but that many other services will be done in the shop, something that makes her happy but also makes the customers happy. "Now, we can provide much quicker turn-around time to our valued customers, sometimes even performing services on the spot and this is something not really offered elsewhere at this level," she says.
Roman Jewelers is a family owned and operated store with locations in Flemington and the Bridgewater Commons Mall. Roman Jewelers specializes in custom jewelry design, fine jewelry including diamond and bridal jewelry, designer jewelry and jewelry repairs.   The Roman Jewelers Flemington location also offers a wide selection of fine Swiss watches.  Additional information about the company is available at www.romanjewelers.com.