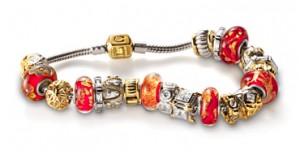 Chamilia Bracelets, truly personal
Personalized bracelets have graced the wrists of iconic women, including actress Elizabeth Taylor, whose unprecedented jewelry collection, recently auctioned off by Christie's for $156,756,576, included a 20-charm bracelet. Kate Middleton received a gold charm bracelet as a wedding present from her step-mother-in-law Camilla Parker Bowles.Jewelry is truly sentimental. Each piece represents a snapshot into the celebrations and special occasions that fill our lives with joy and Chamila bracelets are a stylish and personal way to make our memories everlasting. With a simple flick of the wrist, they allow us to remember life's milestones, both big and small.
Roman Jewelers is proud to carry Chamilia beads in our Bridgewater and Flemington stores. This unique line offers over 600 beads, including 14k gold, Italian Murano glass, Swarovski crystals, colored stones an exclusive collection of Disney beads. There's even Miss Chamilia line for young ladies.
The process of creating a truly one-of-a-kind bracelet is both fun and sentimental. You will start by picking customizing the length of your bracelet. After that comes the fun part – picking your beads! There are countless varieties, which are sorted by the type of material, colors and themes such as birthstone, the alphabet, animals, and even food and drink (vino glasses, anyone?). The possibilities are truly endless.
Please visit our Chamilia shop to learn more. We look forward to taking a trip down memory lane with you.