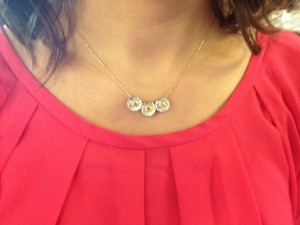 Three Everflowers by Allyson, worn on a 14k gold chain
Looking for the perfect gift for her? Allyson, our jewelry designer at Roman Jewelers in Flemington, has created a special piece of jewelry that will give your wife, mother or grandmother something meaningful to enjoy and cherish. It is called Everflowers by Allyson.
The idea behind Everflowers is that these beautiful flowers last forever and are created with whatever center stone you'd like, then strung on a necklace or bracelet. Does she love sapphires? Is your son's birthstone emerald? Maybe she wants her family of four represented proudly. It gives her the opportunity to talk about those she loves because Everflowers is a conversation piece, too.
Allyson created Everflowers because her customers often come to her for something "personal" but not "popular."  They want something unique that isn't seen on anyone else. This is accomplished not only by the personalization of the stone, but also because of the fact that Everflowers is only available at Roman Jewelers and it is not mass-produced, but rather hand-made right here in our shop in Flemington, NJ.
"We started it at Mother's Day and it has brought great joy," said Allyson. She was surprised and humbled by the positive feedback and stories she heard from Moms about the few pieces she had created. "With that type of positive feedback, we wanted to move forward with a line of product that we could call our own, and she could call her own."
Everflowers is created with any stone that the customer chooses and in any metal they'd like. One of our customers did decide to string "her kids" on a beautiful 14k gold chain, and another chose to attach the flowers to a bracelet, like charms. Whatever idea you choose, we will create and cast individually so it is required that you come visit us, take a look at our samples and provide adequate time to create the custom flower(s).
So, next time, if you are considering flowers, maybe you should come to Roman Jewelers to see the flowers that last forever.