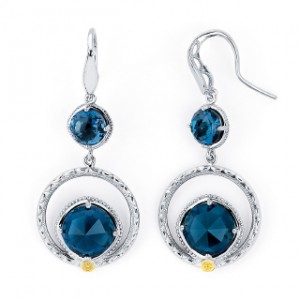 Tacori Topaz Earrings available at Roman Jewelers
We all know the traditional wedding rhyme – "Something Olde, Something New, Something Borrowed, Something Blue". Each item in this Old English verse represents a good luck charm a bride should have with her on the big day. We think jewelry is a stylish way to honor this tradition.
Inspired by gorgeous blue-hued stones, jewelry with any of these brilliant blues will not only provide good luck but will add beauty and sparkle to any bride:
Aquamarine
According to the old traditions, aquamarine promises a happy marriage and is said to bring the woman who wears it joy and wealth. An ideal gem, for loving and married couples.
From the light blue of the sky to the deep blue of the sea, aquamarines shine over an extraordinarily beautiful range of mainly light blue colors. Women the world over love it for its fine blue shades which can complement almost any skin or eye color.
Its light blue arouses feelings of sympathy, trust, harmony and friendship. Good feelings. Feelings which are based on mutuality and which prove their worth in lasting relationships. The blue of aquamarine is a divine, eternal color because it is the color of the sky. However, aquamarine blue is also the color of water with its life-giving force. And aquamarine really does seem to have captured the lucid blue of the oceans. No wonder, when you consider that according to the saga it originated in the treasure chest of fabulous mermaids, and has, since ancient times, been regarded as the sailors' lucky stone. Its name is derived from the Latin 'aqua' (water) and 'mare' (sea). It is said that its strengths are developed to their best advantage when it is placed in water which is bathed in sunlight.
Simon G's exquisite 18 carat earrings from the Passion Collection features an oval cut Aquamarine center stone, surrounded by round white Diamonds, and is perfect for the sophisticated bride.
Blue Sapphire
Although, sapphires come in other colors, there is good reason that blue is the favorite! The blue sapphire gives feelings of sympathy and harmony, friendship and loyalty: feelings which belong to qualities that prove their worth in the long term – feelings in which it is not so much effervescent passion that is to the fore, but rather composure, mutual understanding and indestructible trust. Thus the blue of the sapphire has become a color which fits in with everything that is constant and reliable. That is one of the reasons why women in many countries wish for a sapphire ring on their engagement. The sapphire symbolizes loyalty, but at the same time it gives expression to people's love and longing.
Sapphire and Diamond stud earrings from Roman Jewelers, have a real royal "look" since a design like this has been worn by Kate Middleton and Princess Diana and it will appeal to everyone, including a romantic bride.
Blue Topaz
The beautiful cool blue of the sky is captured in blue topaz. Because of its transparent nature, ancient people believed that this gemstone could help improve communication. The stone is believed to lift the mind to be more positive and less stressful. It is said to attract love and wealth.  This pastel blue gem is a designer favorite since it is affordable and available in a wide range of gem shapes and sizes. Its bright and lively color looks right set in both yellow and white metals.
Shown above, these double-drop sterling silver earrings from Tacori beautifully showcase the Topaz stone. Detailed with the signature Tacori crescents, this floating design would catch the eye of a bohemian bride.
Please visit us online at https://www.romanjewelers.com/ to browse our full selection of bridal jewelry or come in to our Bridgewater or Flemington store to design a custom piece of your own.