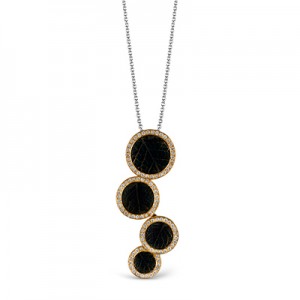 Organic Allure from Designer Simon G.
Roman Jewelers has just returned from the largest jewelry show IN THE WORLD. Our buyers checked out the goods and we attended seminars to further our mission of why we got into this business in the first place–customers! We learned how to better our customer experience and we shopped the finest in gemstones, jewelry, and bridal to bring it all back to New Jersey. Read on to find out what we brought home.New Bridal–Brides in both our stores, in Flemington and Bridgewater, love a vintage look. So we shopped and found a beautiful collection of vintage inspired diamond settings along with some diamond and sapphire settings.  Since the "royal" ring and but truly for centuries before that, brides and grooms have used sapphires in engagement rings settings because it is meaningful, unique, and a wonderful way to show off a center diamond stone, too.
Gold Jewelry–cable-style bracelets are still very popular with jewelry lovers. They are affordable and great for stacking. The stacking look provides versatility and is perfect to accessorize any outfit–day or night–and our acquisition of some of these gold bracelets will make for some great gift giving, too. Ask about them when you come in to see us.
Color–from colored diamonds to quartz gem slices, color runs a gambit of price points. So, whatever your desire, Roman Jewelers purchased the finest in color at the Vegas show. A very popular, affordable, and beautiful look are colored gem slices. These designs actually cut the colored stone into a thin slice and highlight the slice with a diamond bezel. The look is organic, because you can see the unique qualities of the gemstone, but also elegant. If you prefer a faceted colored stone, no worries. Big looks are on the way from Designer, Simon G.
Diamond Jewelry–always in style, always beautiful, and always at Roman Jewelers. Vegas was filled with every girls' best friend. Our buyers got to the diamond early in the a.m., making picking the best stones a priority for them at Vegas. New diamond pendants, bracelets and necklaces will be in our cases very soon–in all price points. Please call ahead if you would like to make an appointment.
Tacori 18k925–the new Tacori 18k925 is HOT. Due to ship to Roman Jewelers in a few weeks, we will be sure to blog about this sterling silver line more and post to our Facebook. The look is really amazing and affordable and customers of all ages LOVE it!
Simon G. Color and New Designs Organics, Simon set–our customer's favorite designer is Simon G., so our buyers spent a big portion of the first day sitting with Simon and his Sales staff to pick our the finest color first. In addition, Roman Jewelers will be featuring more from his Organic Allure and Simon Set this year. The Simon G. line continues to grow and improve every year and our customers continue to embrace all that is Simon G. We can't wait to show you.