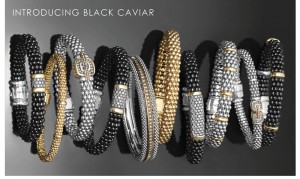 Roman Jewelers is hosting a LAGOS launch event in their Bridgewater Store location on Saturday, September 26th. To celebrate, there will be a gift with purchase, refreshments and representatives from LAGOS available who will provide additional merchandise. The event will be held from 10 a.m. to 5 p.m. and Roman Jewelers encourages the public to attend and find out why this designer line is a favorite…with the collection starting at $250.
Roman Jewelers chose to add the designer, LAGOS, to the jewelry collection in Bridgewater because "the quality of the jewelry, the look of the designs, and the philosophy of their brand was very much in line with ours," says Lucy Zimmerman, co-owner of the store. The level of detail in the LAGOs design cannot be mistaken and is absolutely stunning. The jewelry at Roman Jewelers is primarily Sterling Silver with 18K accents, but 18k gold pieces will be available on the day of the event, as well.
Lagos' commitment to detail is best showcased in the signature design—Caviar. The luminous caviar-like beading brings luxurious texture to sterling silver and 18k gold, transforming these precious metals into iconic jewelry that is as captivating as it is wearable. It takes hundreds of steps, and a keen eye, to complete a single caviar creation.The process always begins with a hand-drawn sketch by Steven Lagos, whose belief is that every piece of jewelry is as bold as the woman who will wear it.
Roman Jewelers will also be among the first in the country to showcase Lagos' new Black Caviar Collection from Lagos. The collection will arrive this week. For more information, or to make an appointment contact Roman Jewelers: https://www.romanjewelers.com/contact-us/schedule-appointment/