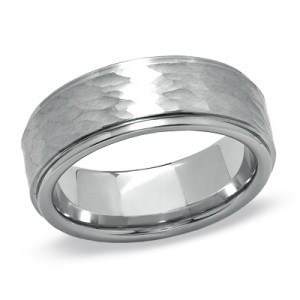 5,000 years ago, ancient Egyptians were exchanging wedding rings. They believed that the vein in the fourth finger lead directly to the heart, thus making a perfectly romantic place for a wedding ring. The tradition was passed down from generation to generation, from culture to culture, to the extent that what once was known as the "forth finger," is now widely known as the "ring finger." Lovers around the world still feel the romantic connection of the wedding band's location on the ring finger as a direct artery to the heart.
Today, the tradition continues, of course. But, if your man hasn't shopped rings recently, or if you are in the market to purchase a men's wedding band soon. Here are a few tips and looks that are popular:
The classic  Gold and White Gold Domed Men's Wedding Bands are still popular and practical, truly for the "classic" guy. Fortunately, plain and simple aren't the only styles available in men's rings. There are a wide variety of patterns that are popular twists on the classic band. Two-toned rings are crafted from two different metals that work together to create a number of patterns. Woven and wave are two of the most popular. Milgrain is a tiny beaded pattern along the edges of the band that's another popular pattern most commonly found on a domed ring. These variations can also be found on a flat ring, which tends to be a bit more "modern" looking. If your man is into a bit more bling, gemstones or diamond wedding bands are available and often add a bit of significance–maybe her birthstone, a loved one's birthstone,  or a family tradition.  This style can be purchased finished or created by one of Roman Jewelers custom jewelry designers.
Outside of gold is a wealth of other men's wedding band options are that are truly becoming more and more popular–like Sterling Silver. In addition, alternative metals like Platinum, Palladium, Tungsten and cobalt bands are big choices due mostly to cost and also durability and comfort. Platinum would be a more expensive metal, but is extremely durable and  a preference for many men who "like the feel" of the ring.
Palladium is a precious metal that's known as platinum's country cousin. In the 1930s, platinum was found to be useful to our military and hard to come by, so it was proclaimed a strategic metal, making it unavailable for use in jewelry. Palladium was discovered to share many of platinum's characteristics and became popular with jewelers, especially because of its lower price tag.
If your groom is a science enthusiast, a tungsten wedding band may appeal to his inner nerd. Tungsten is a highly durable, scratch-resistant metal that's inexpensive to boot. Its dark gray color is an interesting alternative to silver and gold, but it weighs more than silver, which could make it uncomfortable for men who don't usually wear jewelry.
Cobalt Chrome wedding bands are also a wise alternative. They feature many unique properties and characteristics, the most obvious being a premium bright white color! Cobalt Chrome wedding bands are much whiter than tungsten and titanium wedding bands and are often compared to platinum in appearance. Since the bright white color isn't just a plating, Cobalt Chrome wedding bands will stay white forever. Cobalt Chrome wedding bands are less scratch-resistant than tungsten wedding bands, but more scratch-resistant than titanium wedding bands and precious metal wedding bands.
Whichever style, maybe it is time for your guy to get an updated/new look. Or if you are shopping, stop in our store during July's Wedding Band Promo, July 16 – 18 when you can purchase her ring and get his for free. Restrictions apply.