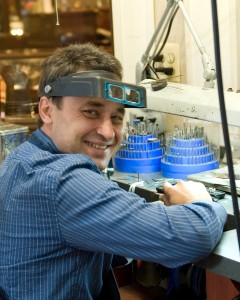 Igor Furhman, Master Jeweler, Roman Jewelers works on all types of jewelry repairs
By Sophie Shor
He put your engagement ring on your finger five years ago, and you have been wearing it every day since. You never take your wedding band off, even when you go to the gym. You diamond bracelet is always on your wrist.  And your favorite hoop earrings match all of your outfits perfectly and you wear them quite often. That is wonderful. Enjoy, but please make sure that you periodically have your jewelry inspected for any wear and tear by Roman Jewelers.
Every piece of jewelry eventually yields to wear and possible damage.  Maybe you need to replace lost or chipped gemstones or refurbish the worn or damaged parts?  Quite often, the areas that need special jeweler's attention are hinges, clasps, prongs, ring shanks, bracelet links and chains.  And don't forget your pearl necklaces and bracelets! These need to be re-strung periodically and the clasps checked.
And that is where a good jeweler comes in, examining your jewelry and making recommendations. Years of experience in restoring and repairing your jewelry; that is what a really good jeweler will offer you.
Feel free to stop by at Roman Jewelers in Flemington or Bridgewater, NJ. We will gladly look at your jewelry and give you advice on the best way of restoring and repairing your jewelry pieces. Our jewelers are some of the finest, most experienced master craftsmen in the industry.