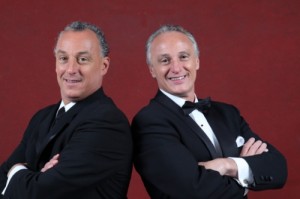 Mountain Lakes – Jerry and Robert Frungillo, stars of TLC TV show Masters of Reception have teamed up with a luxury jeweler and New Jersey Bride magazine to give away a free wedding. The contest, created by Roman Jewelers of Flemington and Bridgewater invites engaged couples to compete for the wedding by raising money or making a difference for one of ten New Jersey charities.
Known for throwing lavish weddings at their four locations – The Villa, Skylands Manor, The Mezzanine and Oakeside Mansion – Frungillo Caterers (www.frungillo.com) was chosen for TLC's TV show over 100 other caterers. "They like how we go out of our way for our events and our brides and grooms. They witnessed it first hand and liked our family atmosphere and how Robert and I are so involved in what happens every day — selecting menus, purchasing fresh items, and training our staff ourselves. They like how we never say no, we just keep going and going until people are happy."
The Frungillos were happy to get involved in a giveaway that gives back to the community. "It's nice to help people out during these tough times," explains Jerry, the older of the two brothers.
Along with developing a passion for doing whatever it takes to make their clients happy, the Frungillo brothers learned the importance of helping others early on. "If something ever happened to someone we knew, my father would be the first one to house offering to help out, we learned that lesson and are always helping out organizations and individuals," admits Robert.
Although Frungillo Caterers has given away a wedding reception in the past, this contest is far different.  Now in it's second year, The Roman Jewelers Wedding combines romance with philanthropy. To win the luxury wedding prize, brides and grooms-to-be will have the make a difference for ten New Jersey non-profit organizations.
Last year's contest, created to celebrate Roman Jewelers' 20th Anniversary and help area charities raise funds and awareness in tough economic times raised nearly $100,000 for charity in 6 short weeks. "Our couples did such a good job. They worked so hard and the community is so thankful.  We don't expect any less from this year's contest," said Roman Jewelers' co- owner Sophie Shor.  "We're expecting more," she adds with a smile.
At auditions on July 17, 2010 at The Villa at Mountain Lakes, couples will tell their compelling love story to a panel of judges from 9am to 2:30pm. At 2:30, judges will announce twenty semifinalist couples that will have two weeks to develop a creative and original "Good Deed Plans" to help their chosen charity.
The ten best plans will be chosen to move on as finalists and compete to win the grand prize; a free luxury wedding including a reception with food and drinks for 200 guests at The Villa, diamond wedding bands from Roman Jewelers, a couture wedding gown from Donna Morello Wedding Gowns, entertainment by Craig Scott, floral arrangements by Conroy's Creations, professional photography by Transposure Fine Art Photography and invitations by Occasions. Videography, luxury transportation, skin care and exercise packages, hair and makeup, tuxedos, and a honeymoon at the Hilton Waikoloa Village on Hawaii's big island are also all included.
Finalist couples will have approximately eight weeks to implement their "Good Deed Plans on behalf their Charitable Partners which include Make-A-Wish Foundation of New Jersey, Special Olympics New Jersey, Anderson House, Woodlands Wildlife Refuge, America's Grow-a-Row, The Arc of Hunterdon, Hunterdon Art Museum, Raritan Valley Habitat for Humanity, SAFE in Hunterdon and the Hunterdon County YMCA.
The winning couple will be announced at Flemington's Renaissance Plaza in October. They will be chosen based on the couple's love story, their dedication to helping others, the impact they've had on charity and the results of their Good Deed.
To register and find out more information about the luxury wedding visit www.romanjewelers.com