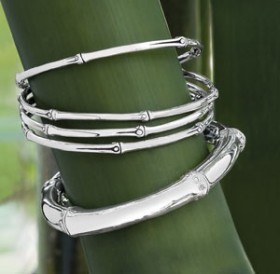 Everyone knows that when it comes to sincere gift giving, there is no substitution for a gift of fine jewelry. She loves it, it is meaningful, personal, and it shows that you took the time to 'shop.' A gift of fine jewelry is the most thoughtful gift for anyone you love for any special occasion. That part is easy. The hard part for many is the "budget." But, a gift of fine jewelry does not have to break the bank. Here are some suggestions on purchasing affordable gifts that still come in those cute little boxes that are sure to delight:
Sterling Silver
Sterling silver is an affordable choice and you can mix it up a bit–add diamonds, precious metals or other precious stones. You can appeal to her fashionable side and still stay within a reasonable budget if you go with designer silver, like Tacori 18k925,designed with a dab of 18k gold in just the right places. Or, John Hardy, with detailed, inspired, collections designed in Bali. The John Hardy Bamboo Collection has engraved on the pieces themselves how many bamboo seedlings your purchase funded—something John Hardy started to help families in Bali to develop sustainable cultivation of bamboo and other hardwood.
Semiprecious
Vast and plentiful, semiprecious stones allow you to give a big, bold look and stay within your budget. Colored gemstones really do bring life to gift-giving. Show you really know her by purchasing her birthstone—many birthstones, like Peridot for August, are affordable and fashionable.  Colored semiprecious gemstones change and brighten the appearance of any wardrobe. Turquoise is hot this season and Amethyst is another gemstone that has been gracing the fashion runways.
Pearls
Pearl strands are a great, classic item. Classic pearl strands are something that nearly every woman either has or wants to have in her jewelry wardrobe. The magical thing about these superstars of the sea is that they are available in such a wide variety of shapes, sizes, price ranges, and types.
Custom
Don't forget custom jewelry. Here is a great opportunity to go into the jewelry box and see what hasn't been worn, is no longer in fashion, or just needs a lift.  A qualified jewelry designer, like Allyson Quaglia at Roman Jewelers in Flemington or Lucy Zimmerman, fourth generation jewelry designer at Roman Jewelers in Bridgewater, can work within your budget to make sure that those pieces get worn and loved again. It is the ultimate in jewelry recycling.
Fine Jewelry retailers, like Roman Jewelers in Flemington and Bridgewater, provide shoppers with affordable jewelry choices that will bring a great deal of joy to any gift recipient. Fine jewelers also have qualified, knowledgeable, and helpful staff that will make shopping a pleasure. See www.romanjewelers.com for additional gift ideas or check back on this blog.