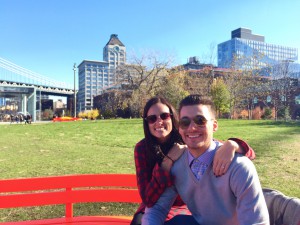 Even though Mike and Laura have been together for nearly nine years, Mike knew it was still critical that he plan a very special proposal for Laura.
Mike and Laura's relationship goes all the way back to kindergarten. After being classmates for most of their younger years, they finally began dating at the end of high school. Despite college sending them in different directions, Mike and Laura remained together and spent the first five years together in a long distance relationship.
After purchasing the ring, Mike reached out to Laura's friend who lives in Brooklyn, New York, to have her assist in the surprise proposal. At Mike's request, the friend invited the couple up to visit the following weekend. Laura agreed, and her and Mike headed up to NYC on Saturday, November 21st. As they got close to Brooklyn, Laura's friend informed them she was in Brooklyn Bridge Park asked if they could meet her there rather than wait outside at her place (all orchestrated by Mike, of course). After meeting up with their friend, Mike waited for Laura to be distracted before getting out the ring, turning around and getting down on one knee.
Laura was completely shocked and Mike successfully pulled off a wonderful surprise proposal with the Manhattan skyline in the background.
Mike and Laura are heading back to their home state of Minnesota, where it all began, to tie the knot in June 2017.
Congrats on your #GreatEngagement, Mike and Laura!