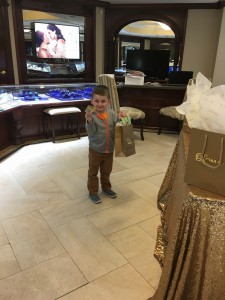 Roman Jewelers in Bridgewater & Flemington, NJ just made a donation to the Make-A-Wish foundation, New Jersey Chapter but with it, did much more.  A recent Mother's Day promotion went viral and allowed the Jeweler to donate $3,000 to the charity. In addition, it taught what co-owner, Sophie Shor calls, "A nice lesson on giving….not just to Mom, but to other children." She hopes that it will inspire kids to continue their altruistic ways in the future.
The promotion, held from April 25 – May 8 invited kids to come into Roman Jewelers and get a $10 grab bag gift for Mom or the Mom in their life. The $10.00, in turn, was donated to the Make-A-Wish foundation. The grab bag included various jewelry valued at up to $100.00. The promotion became a "local and positive viral sensation," says Mrs. Shor, who mentions that the promotion was even bigger than what she expected.
Nearly 300 kids came in during the two week period. Roman Jewelers even had a table set up where kids could make cards. The store's promotional Facebook post was shared by Moms who also shared it on many community Facebook pages. It reached 21,000 local people and the outreach and heartfelt messages were making their way back to the stores and Roman Jewelers employees. "We heard stories from kids and parents that were heartbreaking, uplifting, charming, funny and just plain cute," said Mrs. Shor. It is her hope to try to continue and even improve the event next year.
Roman Jewelers is a family owned and operated store with locations in Flemington and the Bridgewater. Roman Jewelers specializes in custom jewelry design, fine jewelry including diamond and bridal jewelry, designer jewelry, Swiss watches and jewelry repairs.