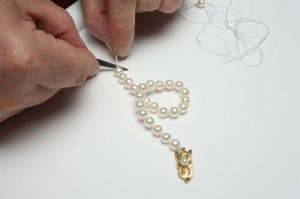 A: OF COURSE!
Once you've made a investment in a piece of fine jewelry, it deserves to have a beautiful, long and healthy life that brings joy every day. Caring for jewelry will not only extend the life of your jewelry–and ability to pass it down to the next generation–but it is really a very simple thing to protect an important and personal investment.   Below are some simple, basic guidelines for the care and cleaning of your fine jewelry:
Basic jewelry care tips from Roman Jewelers:
Store your jewelry in a clean, dry place.
Keep your jewelry in a fabric-lined jewelry case, or in a box with compartments and dividers. If you prefer to use ordinary boxes, wrap each piece individually in soft tissue paper.
Don't jumble your jewelry pieces in a drawer or jewelry case. Pieces can scratch each other.
Be careful when removing your jewelry to wash your hands. Do not leave your jewelry on the rim of a sink where it can easily slip down the drain.
See your jeweler at least once a year to have your jewelry checked for loose prongs, worn mountings, and general wear and tear. Visit your jeweler every six months to have your jewelry professionally cleaned. These services are generally very inexpensive or free.
Be careful with store bought ultrasonic cleaners. They can damage some jewelry and prolonged use may loosen gemstones from their mountings. Come in and ask us if an ultrasonic cleaning machine is right for your jewelry wardrobe.
Depending on the type of jewelry you have, care must be given to properly maintain it. Roman Jewelers would be happy to provide you with tips on keeping your silver polished, your pearls shiny (just use a damp cloth) and your diamonds sparkling. Stop in and ask.