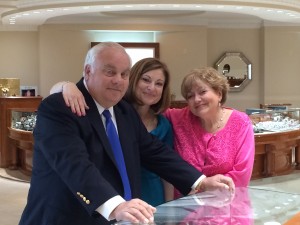 Roman Jewelers of Flemington & Bridgewater is celebrating a milestone in their business—25 years. And, the owners, Sophie and Roman Shor, along with the daughter, Lucy Zimmerman came up with some community-focused ways to celebrate.
"25 years is pretty exciting for us, and we wanted to commemorate it in a significant way. The best way we could think of to do that was to give back and, of course, have some fun, too," says Sophie Shor, co-owner of Roman Jewelers."
To celebrate, Roman Jewelers is donating $25,000 to local charities. These 25 charitable organizations were nominated by Roman Jeweler's employees and each will receive a $1,000 donation. The selected charities are: Ability 2 Work (Baker's Treat), America's Grow-a-Row, Anderson House, ARC of Hunterdon County, Briteside Adult Day Center, BW NICE (Business Women Networking Involving Charity & Education), Family Promise, Flemington Fire Department, Flemington Food Pantry, Flemington Jewish Community Center, Flemington Police, Flemington Rescue Squad, Hunterdon Chamber of Commerce, Hunterdon Helpline, Hunterdon Museum of Art, Hunterdon Youth Services, Hunterdon Prevention Resources, Lions Club, Meals On Wheels in Hunterdon, Raritan Valley Community College, SAFE in Hunterdon, SKIT (Show Kids Invitational Theater), Steps Together, Woodlands Wildlife Refuge, and the YMCA of Hunterdon County.
In the spirit of giving back to the Flemington community at large, for 25 days during the month of October, Roman Jewelers will be placing a total of $15,000 of jewelry prizes in and around businesses in Flemington. They are calling it "Finders Keepers" and hints will be provided through Facebook and Twitter posts as to the location of the next Finders Keepers prize. Prizes will be located mostly at other small businesses and people should be looking for Gold wrapped boxes with a "Finders Keepers" card on it. The winners are asked in the card to share a picture of themselves with the prize on social media, or emailing one to the store. Like the Roman Jewelers Facebook page to watch for the clues!
The Shor/Zimmerman family is proud of their business and proud of their community. It stems from gratitude that began when the young family immigrated from the former USSR to Flemington in 1980. In Flemington, they met the community that embraced them and provided the freedom the family longed for.
This 25th Anniversary celebration will culminate with an anniversary and holiday gala where Roman Jewelers' family, friends, staff, charitable partners and long time customers will gather to celebrate. They will be toasting not only to the 25 years of wonderful business, but also to friends, customers and the community that made the Shor Family story possible.