Photo L to R: Judy Gold, Designer Freida Rothman, Courtney Newman and Roman Jewelers Co-owner, Lucy Zimmerman at Roman Jewelers on May 6th Women of Strength Event
Bridgewater, NJ--Roman Jewelers partnered with Brooklyn jewelry designer, Freida Rothman, last week to honor Women of Strength in our local community. The event, planned in celebration of Mother's Day, awarded two local women: Judy Gold of Flemington and Courtney Newman of Hillsborough, with a bracelet and donations to their charities, BW NICE and STEPS TOGETHER, respectively.
The bracelet was designed by Freida Rothman and presented to the winners by both Rothman and Roman Jewelers' store owner, Lucy Zimmerman, on Thursday, May 6th at the Bridgewater jewelry store at 500 Commons Way. The women were selected by Roman Jewelers' sales staff and store owners for their exemplary commitment to our communities and their example of strength during some difficult times. Both women were inspired by their own personal circumstances to support their chosen charities.
Co-Owner Lucy Zimmerman says, "Both Judy and Courtney were obvious choices. Women of Strength are givers…and leaders. Both these ladies look for opportunities to do the most good deeds as possible in their communities. They are both inspired and never give up. And that takes strength and commitment." Zimmerman says that her own Mother, Sophie Shor, is herself a woman of strength, adding that "I've learned so much from my own Woman of Strength, my Mom. She is my inspiration in all I do…as my business partner but also a leader in the community. Over my life, she has been nothing but an amazing example of humanity and strength."
Judy Gold is a local, successful realtor, businesswoman, and community member in Hunterdon County. Judy is an advocate for women survivors in the community. She is a board member of the BUSINESS WOMEN NETWORKING INVOLVING CHARITY AND EDUCATION (BW NICE) to help women not just survive but thrive with community care and support.
Courtney Newman started Steps Together after medical scares with both of her young children. The organization formed in 2013 and assists local families who are facing a
medical crisis by providing financial relief, while also bringing awareness to the conditions that impact them. The charity has raised nearly $900,000.
An ode to female endurance and fortitude, Freida Rothman began the Women of Strength campaign to honor the stories and sentiments of women that have shaped her as a mother, daughter, and designer. The campaign has honored female Holocaust survivors—including her own grandmothers, Women of West Point Military Academy, and most recently, female healthcare workers across the country.
According to Rothman, "People are doing good things, and this is what keeps us going — to do good things to help each other, to donate to good causes."
Roman Jewelers was honored to host Ms. Rothman at the Bridgewater store and equally honored to recognize the local Women of Strength.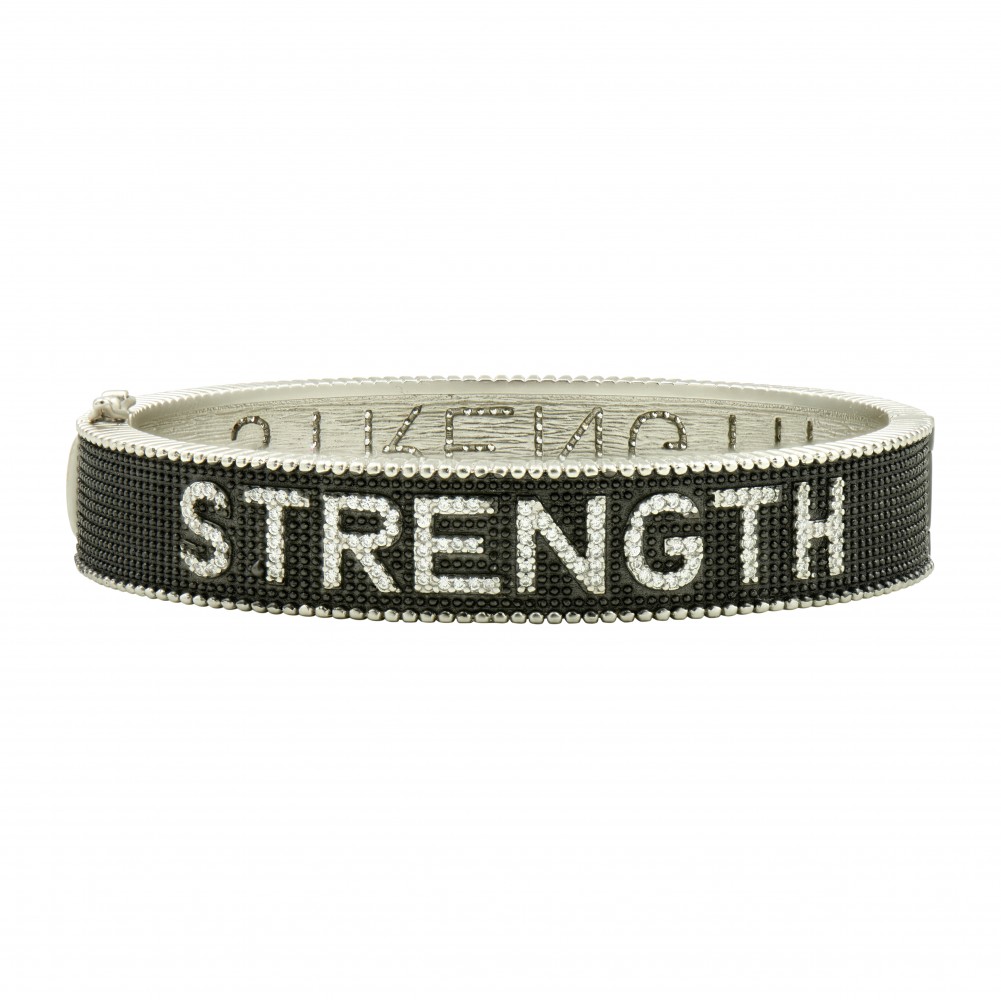 "I designed the STRENGTH bracelet to honor the legacy of my four grandparents — all Holocaust survivors. They taught me to always see the beauty in life and choose a positive path forward in the face of adversity and the obstacles we all go through. The STRENGTH bracelet celebrates and reminds each woman of their inner strength and to make a positive difference in this world. I used a textured dark rhodium finish to symbolize grit and resilience, and handset pavé stones for the perfect combination of grit and glamour." Freida Rothman
For further information: BW NICE: https://bwnice.org/bwnice-chapter/hunterdon-county-chapter/
Steps Together: https://www.steps-together.org/
Freida Rothman: https://www.freidarothman.com/
Roman Jewelers: www.romanjewelers.com