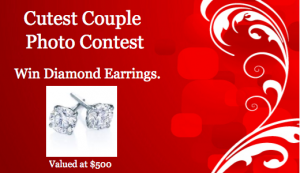 Valentine's Day is the perfect time to get excited about love…and to get others excited. It is in that spirit that we created our cutest couple facebook contest. The winner will receive a pair of stud earrings valued at $500.
Kelley of Bridgewater says, "After 2o years, I still think he can do anything." Isn't that cute? What about Laurie of Stockton? She loves that he loves her as much as he loves her dog :). What makes you and your sweetie cute? Tell us and you could win!
Valentine's Day is right around the corner. Now's your chance to share your LOVE with the world!
Entering the contest is easy! Just post a photo of yourself and the one that makes your heart go "BAM!" (click "Submit entry" tab) and get your friends to vote on it! The picture with the most votes Wins a pair of Diamond Earrings. (valued at $500!)
Winner drawn Feb 13, 2012…so go be cute 🙂 Shouldn't be that hard.