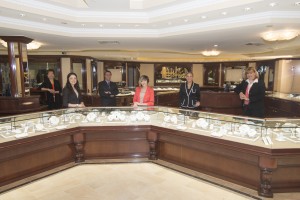 Roman Jewelers of Flemington and Bridgewater is celebrating their 25th Anniversary with a 25% off sale starting tomorrow, Tuesday July 22, at their original Flemington Store location. It runs through Saturday the 26th. It is the first of several special events to mark the company's milestone.
Founded by Roman Shor in 1989, Roman Jewelers has two locations—at 39 State Route 12 in Flemington and at 500 Commons Way in Bridgewater. The first store in Flemington is still in the Feedmill Plaza, a former Farmer's Feedmill. The building was recently redeveloped, but Roman Jewelers is still on the first floor and celebrated their anniversary with a renovation of the inside space. The company is co-owned by Mr. Shor's wife, Sophie and their daughter, Lucy Zimmerman.
"We have a new, beautiful store in Bridgewater now. Flemington is our original home and that space needed a bit of a lift—so it was our 25th Anniversary gift to ourselves and our customers who find the new look to be brighter and more open," said Sophie Shor store co-owner.
The company is excited to unveil other Anniversary surprises including a community-based fundraiser and something that will just be "fun." Mrs. Shor encourages the community to "stay tuned."
Roman Jewelers of Flemington is open Tuesday – Saturday from 10:00 a.m. – 6 p.m.
Roman Jewelers is a family owned and operated store with two locations. Roman Jewelers specializes in custom jewelry design, fine jewelry including diamond and bridal jewelry and offers a wide selection of Swiss watches. For more information, call 908-782-8240 or visit www.romanjewelers.com